Analysis:
In real world use the Recliner is a worthwhile investment into your iPad or eReader, it will certainly increase the usability of your device and reduce the strain placed on you in the process. Given the good and bad aspects of the Recliner we still feel the usefulness of this device outweighs the problems.  Overall the construction is excellent, the real life use of the device proves its worth, and the strain relief it grants the user allows you to use your device with much more comfort.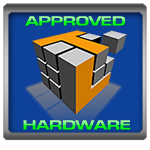 Summary and Conclusion:
The Recliner comes in strong as a eReader/iPad stand and does what it sets out to do with great quality. Its design is both flexible and reliable and is a good value but not a great value. At the same time the Recliner could offer a better method of adjustment, this would be the only design improvement we could suggest for the Recliner. Other than this design issue we would like to see a slightly lower price tag which would firmly place the Recliner in the Excellent Value category.
Overall the LapWorks Recliner is a worthy product of your cash and we are happy to give it our Approved Hardware Award.