A slick looking, brushed aluminum case:
Human behavior is such that we are always drawn to the newest and shininess of gadgets. Fortunately Lian Li is willing to sate our needs with the new PC-X900 an awesome mid tower case with a tool less design and sweet series of LED fans and slick brushed aluminum aesthetic. All together Lian Li has created a slick looking case, join me while I review the PC-X900 to see if its everything its suppose to be.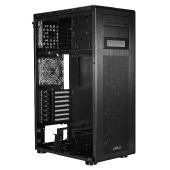 Sweet Looking PC-X900

We test cases in a real world scenario by actually building a system in the case that means full wiring, full system components and real world usage.
A closer look:
| | | | |
| --- | --- | --- | --- |
| | The retail packaging, the case comes in black with blue lights, silver with blue lights, or red with red lights. | Other components that come with the case which include a cable for connecting the USB 3 ports to the USB header as well as the standard assortment of screws. One other cool thing is a case to hold extra screws which was a nice little extra. | |
The box is pretty much  standard for what you would expect for retail packaging. It shows pictures of the case and a listing of specs on the side.
The window on the side is mounted lower on the case so you can see the motherboard and power supply as well as one HDD rack. You may notice on the left hand picture that the top seems larger than the bottom. The space contains the 5.25inch drives as well as another HDD rack, and is cooled by a 120mm fan drawing air out.
The back of the case (right) has a single 120mm fan for exhaust the front of the case has three 180mm which pull air in; the resulting airflow should keep the board and components quite cool.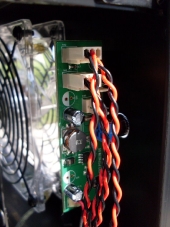 Fan controller circuit board

All the internal fans link back to a central fan controller which has the controls mounted on the rear of the case.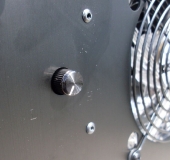 Fan controller knob

The knob is fairly simple in design; it just increases or decreases the speed of the fans depending which way you turn the knob.
| | |
| --- | --- |
| | Looking at the back of the case is an opening to modify a CPU cooler as well as ample space to route cables, which will provide a cool and clean interior. |
| | |
| --- | --- |
| The case panels are secured by a rather ingenious clip design that pulls out to release the panels. This clip can also be secured with a thumb screw. | |
| | |
| --- | --- |
| Case Type | Mini Tower Chassis |
| Dimensions | (W) 230mm x (H) 598mm x (D) 388mm |
| Color | Black / Silver / Red |
| Drive Bays | 3x 5.25″, 7x 3.5″ |
| I/O ports | USB3.0 x 4 / e-SATA x 1 / HD Audio |
Testing and Analysis: