Packaging:
The Guardian comes wrapped in a plastic box.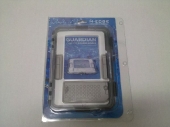 When you open the device up for the first time you will find a cardboard cutout and an anti-glare screen protector for the inside window of the case. The back of the Guardian has M-Edge's logo imprinted. The whole design looks rugged, like it can take a bit of a beating.
Installation:
Installation is really easy. You just undo the latches and put the device inside. It only fits in one way. The clamps aren't too tight that they will give you problems, and not too loose as to pop open during use.
The picture below shows a bit of a glare on the screen. In outdoor and direct sunlight use (where this product is meant to be used) it's really not noticeable. This picture was also taken before installing the anti-glare screen.