Benchmarking
Test System
All tests were performed on the following system:
CPU: Intel Core i5 3570K @ 3.4GHz
Motherboard: ASRock Z77 Extreme 6
RAM: Crucial Ballistix Sport XT 2x8GB DDR3-1600 and Crucial Ballistix Tactical 2x4GB DDR3 @1600MT/sec
Graphics: EVGA GeForce GTX 780 SuperClocked
Storage: Crucial C300 256GB SSD & Western Digital RE4000FYYZ SATA 4TB HDD
ATTO Disk Benchmark
Going in alphabetic order, first up is the ATTO Disk Benchmark. This one looks at the raw read/write performance of the drive, ignoring details like filesystem overhead.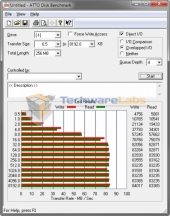 This drive exhibits a fairly typical performance curve, with speeds ramping up as block sizes increase until we hit 32MB blocks. At those sizes, read and write performance both clock in around 83 MB/sec, which is very respectable for a drive of this size and rotational speed.
CrystalDiskMark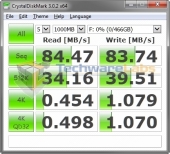 Moving on to CrystalDiskMark, we see a very similar story told. Sequential reads and writes clocked in again around 83-84 MB/sec, while 512K random reads and writes still managed to stay around 35-40 MB/sec. 4K random tests came in the worst as expected, with 450 KB/sec reads and 1 MB/sec writes.
HD Tune Pro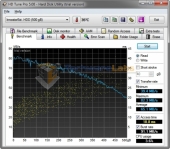 HD Tune Pro gives us a more detailed breakdown, graphing read speeds and access times across the disk. As expected, performance was the best at the beginning of the disk, with throughput of 82 MB/sec. Near the end, read throughput dropped to 40 MB/sec, which is still fairly respectable for a drive of this size and speed.
SiSoftware Sandra
With Sandra, we get another detailed look at performance, again measuring performance across the length of the disk. Sandra, like HDTune, is rather less kind in the test data and patterns it uses to test a drive's performance. Read performance scaled evenly downward as the heads traveled out towards the edge of the disk, averaging 65 MB/sec. With write performance, there were strange downward spikes at several points. We ran the test several times, and got very similar results each time; no telling if this is a fault of the drive or just a strange interaction with this benchmark. Nonetheless, write performance remained in the expected ballpark with an average of 62 MB/sec.
File Transfer
Opting for a bit of realism, we grabbed a folder full of small, medium and large files and tossed it from the SSD in our test rig to the drive and back. Results were interesting: 55 MB/sec read and 44 MB/sec write. This is rather lower than even the harshest of benchmarks would have predicted, but results were consistent across multiple tests. We used the TeraCopy file copy utility for these tests, but the results were no different with Windows 7's built in copy handler.
Thoughts and Conclusion
Getting this drive up and running was as easy as falling off a bike; plug it in, wait for your OS to see it and configure it, start copying files. Noise and heat were both negligible; it barely got warm to the touch during a sustained transfer of about 200GB of music to the drive, and didn't make more than a mild hum. It Just Worked, and for a drive like this that's about the highest praise you can give. It's not setting any land-speed records, but for $50, the price/GB is pretty hard to beat.