MegaCon 2010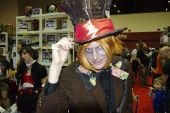 MegaCon is short for mega convention and while it is not as large as the name implies it does draw a respectable crowd and not just any crowd. MegaCon is a dream come true for the trekkies, anime followers, star wars fans, star wars troopers, comic book lovers, sci-fi film aficionados, and much more. You never can tell what you will run into around the next corner at MegaCon, could be a full size Wookie, the Terminator, or even one of the nurses from Silent Hill.
Each year thousands descend upon the city of Orlando in Florida for the annual MegaCon convention. Within the Orlando Convention Center walls you can find working full scale models of R2D2, a legion of Storm Troopers, replicas or nearly every weapon ever shown on the silver screen, and hundreds of fans dressed as their favorite character.  Much more on that note later.
This year MegaCon drew celebrities from many different films and venues including James Hong, Brent Spiner, Billy Dee Williams, and John De Lancie. I have a great deal of respect for all three actors and their accomplishments but they seemed to be kept under thumb by the MegaCon officials which is a real shame for the show fans. It was absolutely great to get to talk to these actors and we want to extend a warm thanks for them visiting Orlando and taking them time to greet their fans.
For a full listing of the stars at this years MegaCon check the following page.
MegaCon is not just for the celebrities as comic book fans will think they have reached heaven. There are row after rows of vendors selling limited editions and first runs of nearly every comic book ever made. We ran across a $100,000 comic book that was just recently sold at the show. Whatever you could be looking for as a fan you will find at MegaCon.
Events
Over If being also to walk around with eyes wide open in amazement is not enough for you then MegaCon has even more. Only at Megacon do you have the opportunity to learn to fight with a sword, take part in a huge variety of board and RPG games, as well as entering into a costume contest that is worth the price of admission by itself. Professional tattoo artists are on site to assist you in getting that special Lego Han Solo and Chewbacca put on your side. The kids are thought of with events ranging from a Kids Costume Content to a Storytime and for the adults this year there was a 5th Annual Megacon Attendees After Hours Party where the MegaCon officials worked their magic and transformed the backstage of a local nightclub into Bartertown (wonder if I can dress up as Mad Max and get free entrance).  For a fulllisting of the events at MegaCon 2010 and a taste of what you can expect in future MegaCon events check out the following link.
Presentations
Learn about the actors in your favorite films, find out a bit more about the paranormal, (funny enough they didn't talk about the convention even though it's no where near normal) or select your favorite topic from the list of over 70 presentations over the the three days of the event. Check out the listing here.
Summary
From costumes and celebrities to  models, magic and more the MegaCon show has it all. We walked down the hall of the Orlando Convention Center and through the doors and might as well have stepped into another galaxy. Our journey through MegaCon lasted a short four hours and we only managed to see a small part of the events and happenings going on. The walls were lined with memorabilia and every gizmo and gadget from your favorite show, comic, and film. In short . . . we loved it and highly recommend you don't pass the opportunity to attend next year's MegaCon in 2011 as we will be there too.
Check out Our Amazing Gallery from MegaCon 2010