MobileLite Wireless G3
Being a busybody is tough, having to carry countless devices, and in modern days if you work with any data, you probably have USB storage devices in all nooks and crannies of your house, car, and office. MobileLite Wireless G3 storage center provides a centeral server to host all the files you would need to use. The first step to an organized system: centralize your resources.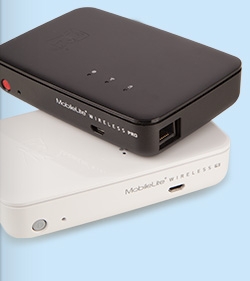 MobileLite is an ad hoc wireless file sharing server capable of connecting up to three peers by WiFi and providing access to files on an attached SD card or USB storage device. The MobileLite also provides a bridge between the three devices connected and your main internet access point by WiFi or Ethernet.
This unique tool is very useful for the busy-at-heart lifestyle—those who are ready to do data transfers with person-to-person interactions. As a Graphic Designer, I commonly need to do quick file transfers while interacting with customers at any number of locations I visit in a single day, and being readily able to request and obtain the resources needed to complete a job makes a subtle but important impression of my business to clients.
So let's get into some details.