Front Row Seat to the Action:
Ever wanted to catch the action, maybe your ride on a Harley, a SeaDoo, your skydive or any place you can mount a suction cup or adhesive strip. The GoPro Motorsports HERO Wide is designed to capture the moment with sound in video, in 5MP stills, on in time lapse photo's. To top it off the HERO Wide comes encased in a clear plastic waterproof housing from which you can still operate the controls. This gives the cam much greater flexibility and means scuba diving and underwater adventure becomes a real possibility. How much video can you capture? 56 minutes with audio on a 2GB card or 1945 photo's.  Interest piqued?  Imagine the possibilities and places you can go with the HERO Wide.
Our unit came to us from Motorcycle ToyStore which has the HERO Wide for $169.
First Impressions: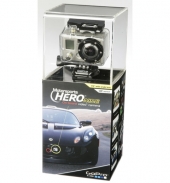 Checking out the package upon arrival we actually felt that the product might be more toy than business.  Having been to CES and several other electronics conventions over many years I have seen many products packaged in a similar fashion and they have always been more toy than useful. I'm very happy to say that my first impression of the HERO Wide was completely wrong. Once opened I found that the HERO Wide is actually a little heavy, the casing is rubberized, and the optics and device seems very high quality.  The waterproof housing seals excellent and does not obstruct the video footage at all.  I can honestly say I was excited to strap this thing to my motorcycle or on my helmet and take it for a test drive. If you are into sports, gaming, or anything of an explorer or adventurer, the HERO is must have hardware.
Let's take a look at what the HERO's specifications are: