A Closer Look:
The Big Bang XPOWER comes with all the latest and greatest connectors (USB 3.0 and SATA 6.0 GB/s), which is expected in an enthusiast board of this caliber. One feature this board does have that many others don't is a dedicated spot for voltage probes. This allows you to get an accurate reading of the voltages in the system at any given time, something which is vital to the extreme overclocker.
This board is a beast. It has slots for 2 EPS12V connectors, for providing power to the CPU (but you can get away with just a single EPS12V connector and a 4-pin connector) and an additional 6-pin connector just for providing extra power to the graphics cards. MSI also didn't cheap out on their capacitors. They claim the board is made to military grade specification, which means it should have reliable parts and in turn have a nice long lifespan.
The RAM slots are a little different than what you may be used to. They only have a clip on one side. I'm not a huge fan of this design. I think it makes it a bit more difficult to put the RAM in, but once it's in there it's quite secure.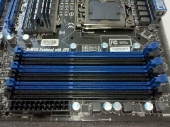 Can you hear me now? MSI went with a little different approach than other board makers using the x58 chipset. They opted to not have onboard audio, and instead include a nice PCI-E 1x sound card with support for EAX 5.0 and Creative's Alchemy. The board also comes with the install disk for THX TruStudio PRO for epic audio in both games and movies.
Need slots for graphics cards? This board has 6 PCI-E x16 slots, which should be more than enough for your extreme graphics and protein folding needs. The x58 chipset supports both nVidia SLI and ATI Crossfire, so you'll be set no matter what graphics card you pick.