Introduction:
Micro Star International (MSI) released its first over clocking capable 286 mother board in 1987. 24 years later they are still setting the pace for innovation and speed by releasing the first motherboards capable of PCI Express 3.0. Utilizing Intel's Z68 chip set these motherboards are packed with every feature an enthusiast could be looking for. The two mother boards MSI released are both featured here.We will take an in-depth look a the features of this motherboard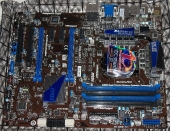 Features:
PCI Express Generation 3
World's 1st PCI Express Gen 3 mainboard brand: With ultra-high 32GB/s transfer bandwidth, PCI Express Gen 3 provides a 2X faster transfer rate than the previous generation, this delivers amazing capabilities for true next generation extreme gaming.
Click II Bios
World's 1st UEFI and software graphical user interface: MSI ClickBIOS II provides a consistent user interface both in the UEFI BIOS and in Windows, it provides the most convenient way for users to control system settings and supports touchscreen control.
 OC Genie II (Z68)
OC Genie II (Z68) Just press the OC Genie button or enable OC Genie II function in BIOS menu, the CPU, memory, iGPU and HDD performance will be highly improved. Whether users want to watch a high bit-rate HD movie or go online gaming, both can be enjoyed with image performance that is smoother and lag-free!
 Virtu GPU virtualization by Lucid
 Virtu Switchable Graphics: Based on LucidLogix Virtu technology, MSI Z68 mainboard series firstly provides the most expectable feature for desktop platform – switchable graphics, which allows users to enjoy both graphics power of integrated GPU and discrete GPU. It will switch to integrated GPU for HD movie playback, video transcoding and general applications to save system energy, or release full power for hardcore 3D gaming by switching to discrete GPU automatically.
 Military Class II
 The perfect trinity of quality, stability and efficiency all exist at one mainboard to meet end user expectations. The MSI Military Class II series products provide the long lifespan, unparalleled quality, extreme performance and ultimate efficiency.
 THX TruStudioPro
 THX is a trade mark of a high-end audio/visual reproduction standard for movies, home theaters, computer speakers and other audio devices. THX Certified Audio products are designed to let users experience movies & videos as live show. The true sound effect can make high definition video more powerful.
 Super Charger
Mobile consumer appliances are getting more and more attention in current day fast moving life style, with smart phones and tablets almost becoming a fashion accessory. However, many ordinary personal computers cannot charge some of these devices, making it difficult to stay connected.  The MSI Super Charger is a Windows resident program capable of revising the power supply mode of your USB port to become more powerful. Once your phone or tablet is connected to your USB port, the Super Charger sends a signal to initiate its charging circuit, making it a really smart and convenient charging solution for mobile computing needs.
 Winki 3
 Winki 3 is a free Linux-based O/S which is based on the Linux core. With an ultra-fast  booting speed and a multi-language interface, the built-in Winki 3 provides an easy-to-use internet environment that includes the most popular functions such as internet surfing, web mail, instant messaging, picture browsing, and more. It's the most practical way to be online in the shortest time.
M-FLash
Compared to common mainboard which need extra BIOS chips, MSI's M-Flash has a double advantage which doesn't need extra components and secondly, all your BIOS data will be saved in the USB drive. The stored data does not only have backup and upgrade function, moreover it can also be seen as a portable BIOS chip which is actually able to boot up your PC.
Live Update 5
MSI Live Update 5 is a powerful and useful application for updating the latest BIOS and Drivers, saving you time and lowers the risk of updating. End-users can install and run the Live Update 5 software on their computers with the companion CD or downloading the app from the MSI website.
Control Center: Instant OC

Instant MB info monitor
Intelligently auto set clock/voltage of CPU and memory
Smart Mode: 4 instant OC modes

3TB+ Infinity
3TB+ Infinity is not only breaking through the limit of traditional BIOS, but also enhancing the utilization of hard drives efficiently. In addition to supporting the latest 3TB hard drives, MSI 3TB+ Infinity technology can use the 3TB hard drive as boot disk when installing a 64-bit operating system. Compared to competitors, MSI 3TB+ Infinity is an industry-leading technology which substantially presents an advantage of development and application in the future.