Packaging:
The outside of the box hails all of the features of the adapter.
The package includes all the contents required to immediately start networking two machines or connecting a machine to an existing network.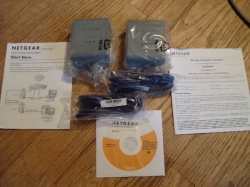 One nice thing that Netgear did was include ethernet cables with the XAVB101. There have been many times when network equipment has passed through our hands and the company expects us to already have network cables.
A Closer Look:
The only difference between the XAVB101 and the XAV101 kits are the amount of units that are packaged with it. The XAVB101 kit includes two XAV101 units, which is all you need to make a functioning powerline network.
With that said, I move on to my next point. The posted bandwidth of 200 Mbps is slightly deceptive. Consumers may think that they will be able to transfer files at 200 Mbps, but this is not the case, as the unit only has a 10/100 ethernet port (100 Mbps max bandwith) for connecting to the device that uses it. The 200 Mbps bandwidth comes into play with the back end powerline connection between the XAV101 units. All of the XAV units share a common bandwidth pool of 200 Mbps to talk to each other. This allows the units enough overhead to help maintain consistent 10/100 speeds despite other traffic on the powerline network (which can happen with more than two powerline adapters)  or noise in the power grid interfering with the signal.
The XAV101 comes with control software to monitor the status of each adapter plugged into the power grid. The software also allows for the upgrading of the device's firmware and the manual setting of an encryption key for transferring across the power grid (The encryption standard that Netgear uses is WPA AES 128-bit).