ROCCAT gives away 20 Leadr gaming mice to best World of Warcraft raid guild
Lead the Charge! Tomb of Sargeras has opened its doors on mythic difficulty. All over the planet, the best raid guilds engage in the race for the World's first kill of Kil'Jaeden, the final encounter in World of Warcraft's newest raid instance.

ROCCAT will give away twenty Leadr wireless gaming mice to the victor of the challenge in order to honor their achievement. We wish all guilds the best of luck!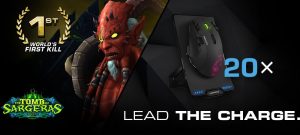 Hamburg, June 28th 2017 – Today, Blizzard has opened the latest raid instance in the popular MMO-phenomenon World of Warcraft, "Tomb of Sargeras" in Mythic difficulty level. Nine ever more challenging bosses await the players and will test their skill and perseverance on the highest level. As a final trial, raiders will have to overcome Kil'Jaeden, one of Azeroths most powerful creatures. Many professional guilds all over the globe sharpen their blades, pick up their shields and warmup their spells and get ready to engage in the challenges before them. The players of these guilds invest enormous amounts of work and time into being the first guild on the planet that conquers the instance as a whole.

While there is much recognition of these players and guilds by the World of Warcraft and overall gaming community, there are no rewards offered for this outstanding achievement by Blizzard or any other company. While most esport athletes all over the world get rewarded in some way or another, the professional World of Warcraft raiders only receive the fame associated with their performance.

We at ROCCAT are active World of Warcraft players as well. Therefore, we want to offer a token of our appreciation to the hardcore raiders out there, which is why we have decided to give away a free ROCCAT Leadr to all players involved in the world's first kill of Kil'Jaeden, the final boss of Tomb of Sargeras. It is only apt, that these players receive the best wireless mouse there is on the market today. A true leader in his game should make no compromises – Leadr enables those ambitious gamers to do just that.

Be a Leader, play with Leadr.
Follow the race for World First at this link.
Sharkoon SHARK ZONE Gaming Seat – MSRP 299 Euros
Sharkoon SHARK ZONE GS10 Premium Gaming Seat | Seat Cover Material from Synthetic Leather | Robust Steel Frame Construction | Flexible 3D Adjustable Armrests | Advanced Suspension and Tilt Control System for Better Total Control | Adjustable Backrest from 90° to 160° | Class-4 Gas Lift | 120 kg Maximum Weight Capacity | 60 mm Wheels | Head and Lumbar Cushion from Synthetic Leather | MSRP 299 Euros
Sharkoon expands their range of gaming chairs with another model: The Sharkoon SHARK ZONE GS10 Premium Gaming Seat, from the SHARK ZONE product family, is available in typical black-yellow design. Attractive for gamers who already have SHARK ZONE series products and are looking for a chair with the right look, yet it is also for lovers of the striking style of the series.
The manufacturer again focuses on a sporty-sleek design with supportive, high-density foam padding on the seat and backrest. It utilizes a robust steel frame construction, similar to the already available SKILLER series (SGS3) seats, with a diameter of 20 to 22 millimeters.
Visually, the new premium gaming seat is kept primarily in black, with yellow highlights and design elements. The nonslip cover is made from easy to clean synthetic leather with precise embroidered logos. The head and lumbar cushions are also made from synthetic leather, likewise with SHARK ZONE design.
Additionally, its ergonomics are not lacking. With its 3D armrests, the GS10 allows individual sitting postures since the armrests can be adjusted for every arm length, desired height and to any individual horizontal angle. For a comfortable sitting position, and for extended breaks, the backrest can be set and locked at a wide range between 90° to 160°. Plus, a spring-loaded tilt function is also included, in which the tilt angle lock adjusts and locks into a stable, desired position from 0° to 14°.
A robust class-4 gas lift offers maximum weight capacity to 120 kg and easy adjustments to the seat height. The 60 mm wheels, fitted on an aluminium five-star base, offers mobility on all even surfaces.
The Sharkoon SHARK ZONE GS10 Premium Gaming Seat is now available for the suggested retail price of 299 euros from authorized retailers.
Thermaltake Launches New Tempered Glass Edition Chassis Series
Core V71, Core V51, Suppressor F51
Aesthetic Appeal with Great Performance
Taipei, Taiwan-June 27th 2017-Thermaltake, a leading brand in high-end PC components, today released the latest addition to the Core V Series and the Suppressor F Series, theCore V71 Tempered Glass Edition Full Tower Chassis, Core V51 Tempered Glass Edition Mid Tower Chassis, and Suppressor F51 Tempered Glass Edition Mid Tower Chassis. With a 4mm thick tempered glass window, a riser GPU support bracket, and full assembly capacity and expandability for advanced watercooled systems, the new Thermaltake Tempered Glass Edition Chassis Series is perfectly made for PC DIY enthusiasts. The enlarged window design with premium-quality guarantees the durability of the panel whilst allowing users to fully admire all components in the system. Whichever case you choose, the Tempered Glass Edition Chassis Series is designed with dual GPU placement layout that enables users to mount the GPUs horizontally or vertically. Inside the cases also come with a riser GPU support bracket. The bracket is used for prevent the graphic card from sagging when it is installed vertically. In addition, the Tempered Glass Edition Chassis Series features spacious interior for high-end system compatibility, supporting motherboards up to standard E-ATX, long graphic cards, multiple 3.5"/2.5" and 5.25" storage devices, and air/liquid cooling solutions.
The new Thermaltake Tempered Glass Edition Chassis Series will be available for online ordering soon. Please contact the local Thermaltake sales representative for further information.
Further information about the Thermaltake Tempered Glass Edition Chassis Series is available on:
Core V71 TG Edition – http://www.thermaltake.com/products-model.aspx?id=C_00003076
Core V51 TG Edition – http://www.thermaltake.com/products-model.aspx?id=C_00003075
Suppressor F51 TG Edition – http://www.thermaltake.com/products-model.aspx?id=C_00003077
Cougar Panzer Review @ ocaholic
With the Panzer, Cougar has yet another case in its portfolio. This tower costs almost 80 Euro and for this kind of money you get a well-built case with a lot of space on the inside as well as an aggressive design. Like the bigger brother Panzer Max, the new

Panzer

comes with a PSU cover and a good list of features like two solid tempered glass panels. Furthermore this case is compatible with watercooling system and 360mm radiators.
Linksys EA9500 MAX-STREAM AC5400 MU-MIMO Gigabit Router Review @ NikKTech
USB performance may not be the strong point of the EA9500 MAX-STREAM AC5400 MU-MIMO Gigabit Router and it does carry a high price tag but with by far the best wireless performance in our charts and with a total of 8 RJ45 Gigabit ports potential buyers shouldn't have much to think about.