ADATA Debuts XPG SPECTRIX D40 RGB DDR4
Programmable lighting, over 4000MHz, and Intel X299 optimization for gamers and case modders
Taipei, Taiwan, July 25,2017 — ADATA Technology, a leading manufacturer of high performance DRAM modules and NAND Flash products, today launched XPG SPECTRIX D40 DDR4 with variable and programmable RGB lighting. Based on top-selling XPG Dazzle DDR4 modules, SPECTRIX D40 swaps single-color LED for multi-chromatic RGB. It also ships in speeds from 2400MHz to over 4000MHz, vastly faster than the max 3200MHz on Dazzle. With support for Intel XMP 2.0 and highly efficient cooling, SPECTRIX D40 combines tantalizing RGB aesthetics with raw performance and overclockability, catering to enthusiast gamers, case modding artists, and competitive overclockers. SPECTRIX D40 has also been validated for AMD AM4/Ryzen.
Smart RGB lighting with ASUS AURA Sync compatibility
SPECTRIX D40 modules integrate a multi-color RGB lighting element in the heatsink with a pre-set cycle active by default. However, users can control lighting sequence and intensity among other variables via software interfaces. One such app is popular ASUS AURA Sync, supported by all current ASUS motherboards. SPECTRIX D40 includes a controller that has been tested AURA Sync compatible, giving users of ASUS motherboards extensive control over RGB effects, including on/off if desired.
Pushing DDR4 speeds forward
Having reached full maturity, DDR4 continues to improve and SPECTRIX D40 embodies efforts to achieve better performance. Modules are available with a factory overclock of over 4000MHz, and start at 2400MHz. SPECTRIX D40 complies with Intel XMP 2.0 requirements to enable easier and more extreme overclocking. At 4000MHz, modules are effectively twice as fast as entry-level DDR4, resulting in tangible performance gains in applications, from gaming to benchmarking.
Intel X299 optimization
Since SPECTRIX D40 stands as a flagship product, the XPG team worked with Intel to ensure best performance on the similarly premium X299 platform. SPECTRIX D40 SPD (serial presence detect) settings work with Intel XMP 2.0 parameters to ensure memory modules clocked to 2666MHz or higher operate at their intended speed, as opposed to lesser modules that may downclock to 2400MHz or even 2133MHz due to lacking XMP 2.0 support.
Advanced cooling and power management
SPECTRIX D40 modules use meticulously sorted and tested chips plus bespoke ADATA-made 10-layer PCBs and robust circuitry. PCBs incorporate two ounces of pure copper, while heatsinks use aluminum alloy. Heat dissipation efficacy is assured, and power management compensates for the RGB lighting to make sure performance remains stable at all times, even when highly overclocked.
About XPG
Xtreme Performance Gear (XPG) is an ADATA Technology brand offering high performance PC hardware. XPG products distinguish themselves by surpassing stringent ADATA A+ Testing Methodology to ensure the highest standards for superior product stability and performance. XPG provides gamers, enthusiasts, and overclockers an extraordinary journey best experienced at full tilt. The XPG line sports advanced technical attributes and its strength shines through with sleek and powerful designs that have earned prestigious accolades worldwide. These include Good Design Awards from Japan and Taiwan Excellence Gold Awards. ADATA XPG products are recognized by overclockers and world-renowned professional gaming teams who use them as essential hardware for achieving victory. For more information, please visit www.xpg.com
Availability
XPG SPECTRIX D40 RGB DDR4 will be available at Amazon.com and Newegg.com
Product Webpage
http://www.xpg.com/en/feature/482
MSRP
AX4U240038G16-SRS: USD89.99
AX4U240038G16-DRS: USD159.99
AX4U266638G16-DRS: USD169.99
AX4U300038G16-DRS: USD179.99
---
Tt eSPORTS MEKA Pro Mechanical Gaming Keyboard Review @ NikKTech
Tt eSPORTS is back with yet another no-thrills mechanical gaming keyboard aimed towards people looking for durability and features without breaking the bank. Its name is the MEKA Pro and today we're testing the Cherry MX Blue variant.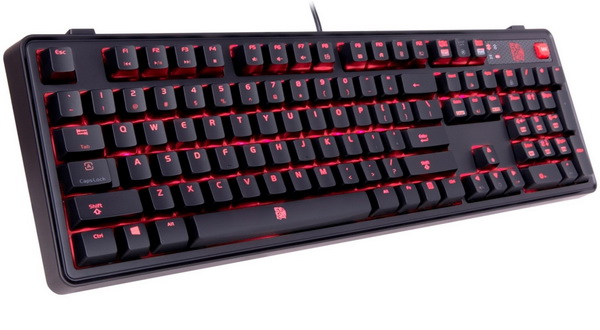 ---
RAZER ANNOUNCES THE TIAMAT 7.1 V2 – THE FLAGSHIP TRUE SURROUND SOUND HEADSET FOR PERFECT POSITIONAL GAMING AUDIO
The Razer Tiamat 7.1 V2 features 10 discrete drivers for pinpoint positional audio;
The Razer Tiamat 2.2 V2 features 2 additional subwoofer drivers for maximum bass impact
IRVINE, Calif. – Razer™, the leading global lifestyle brand for gamers, today announced two new headsets: Razer Tiamat 7.1 V2 and Razer Tiamat 2.2 V2.
Razer Tiamat 7.1 V2
The Razer Tiamat 7.1 V2 is an analog, true 7.1 surround sound PC gaming headset featuring 10 discrete drivers, five per ear cup, creating an immersive soundstage, essential for pinpoint positional audio and deep gaming immersion. Each ear cup contains a 40 mm subwoofer, 30 mm front (L/R) and center drivers and 20 mm rear and side surround drivers, working together to create highly accurate directional audio.
Included with the Razer Tiamat 7.1 V2 is a completely new Audio Control Unit, which allows gamers to set the volume of each audio channel as well as toggle between true 7.1 surround sound and 2.0 stereo audio. The Audio Control Unit also has a pass-through feature, allowing gamers with external desktop speaker setups to switch between their Razer Tiamat 7.1 V2 and their speakers at the press of a button.
For in-game communication, the Razer Tiamat 7.1 V2 is equipped with a unidirectional digital boom microphone which rotates alongside the ear cup when not in use and delivers crisp, natural voice in the heat of battle.
Today's games use positional audio extensively, so being able to hear which direction footsteps or shots are coming from is crucial to winning, says Min-Liang Tan, Razer co-founder and CEO. With five drivers per ear-cup, the Razer Tiamat 7.1 V2 gives gamers pinpoint audio accuracy whether they're playing intense FPS matches or just want to lose themselves in massive soundscapes to bring their games to life.
The Razer Tiamat 7.1 V2 joins the ever-growing family of Powered by Razer Chroma™ devices, with 16.8 million color options and effects available on the ear cups and Audio Control Unit. Owners of other Razer Chroma enabled devices can sync their Razer Tiamat 7.1 V2 with their existing setup or customize each product individually through Razer Synapse.
Razer Tiamat 2.2 V2
The Razer Tiamat 2.2 V2, exclusively featuring two additional 50 mm subwoofer drivers per ear cup, gives gamers maximum bass impact with crisp, clear audio.
Equipped with an adjustable digital boom microphone for natural sound reproduction, and utilizing an in-line remote with extension/splitter cable for compatibility with multiple devices, the Razer Tiamat 2.2 V2 is a versatile cross-platform gaming headset for gamers on PC, Mac, console and mobile.
The Razer Tiamat 7.1 V2 and Razer Tiamat 2.2. V2 are available via Razerstore.com and major retailers worldwide. For more information, visit razerzone.com/XX.
PRICE AND AVAILABILITY:
Tiamat 7.1 V2: US$199.99 / €239.99
Tiamat 2.2 V2: US$129.99 / €139.99
---
GPU Charts 2017 – NVIDIA GeForce Titan Xp 12GB @ ocaholic
GPU charts contain benchmark results of recent graphics cards. We've tested each card with at 1080p, 1440p and 2160p. Apart from that we also show live price tags for all models, temperatures, noise levels and power consumption.
---
Paragon Hard Disk Manager 16 Preview Released & Available for Free Download
Paragon Software Group (PSG), a leader in data backup, disaster recovery, and data migration solutions, invites all interested Windows PC users to get early access to Paragon Hard Disk Manager 16 Preview – the complete solution to protect, maintain, and manage PC systems and data. The 16th edition comes with a completely redesigned UI, handy scopes to represent feature sets and new features. Paragon Hard Disk Manager Preview is an intuitive user-friendly tool to accomplish the system and data management tasks – even the most advanced ones, easier than ever.
Twenty users to provide the most valuable feedback will receive free licenses of the commercial Paragon Hard Disk Manager 16 when it becomes available in fall 2017. All other users get a 30% discount on the commercial version of the program.
New features and key benefits:
Completely new user interface to make the user manage the system and data easier than ever!
Restructured in functional scopes/modules to represent a specific feature set (e.g. Backup & Recovery, Partition Manager, Disk Wiper, Recovery medium and Drive Copy);
Redesigned Express view which gives ad hoc access to all wizards. The Express view is also structured by colors;
All wizards were redesigned to cover more scenarios. The new UI combines all wizards and guides the user to the right selection;
New settings layer for backup strategies defines automatic backup jobs. While it's possible to create an automated backup job with less than 8 clicks by using pre-defined strategies, the strategy settings layer gives advanced users full control;
Direct control of partitioning tasks: move and resize partitions via a wizard or just by using drag and drop controls on the disk map view (called My Computer).
Every essential solution to manage today's hard drives!
Full range of backup, recovery and partitioning solutions!
Fast migration to new HDDs & SSDs!
For more information, please visit: https://www.paragon-software.com/home/hdm-preview/