Raise your level: ROCCAT KHAN PRO
World's first Hi-Res-Certified gaming headset
Real-Voice-Mic, most natural sounding microphone
Extremely light and comfortable
Shanghai/Hamburg, July 27th, 2017 — ROCCAT unveils their newest stereo gaming headset, the Khan Pro, during ChinaJoy Expo 2017 in Shanghai. The Khan Pro delivers unheard of sound clarity, the first gaming headset in the world granted the Hi-Res-Audio certificate, given only to the very best audio products on the market. Thanks to the new ROCCAT Khan Pro, the player can hear and locate any opponent long before they ever come in sight. With a broad frequency range between 20Hz and 40kHz, the Khan Pro boasts deep bass, rich mids and clear highs, enabling gamers to pinpoint sound and location with ease in the heat of play. The Khan Pro makes every gamer a winner. ROCCAT's Khan Pro also features a "Real-Voice-Mic", offering the most natural voice transmission deliverable in a gaming headset. The microphone of the Khan Pro can pick up lower frequencies than other competitors in its class, ranging from just 100Hz to 10kHz. This expanded spectrum makes the human voice sound as natural as possible on a gaming headset, optimizing team communication like never before, ensuring commands and callouts are crystal clear. The low weight of the Khan Pro in combination with its memory foam earpads make it the perfect partner for long play sessions. It doesn't matter if you're racing for a World First Kill in World of Warcraft or the Global Elite in Counter-Strike: Global Offensive – it will never get uncomfortable no matter the duration of play. The Khan Pro is the choice for ambitious esport gamers and all those who aspire to become a better player in general. Play like a pro – with the ROCCAT Khan Pro. ROCCAT's KHAN PRO will be available on all channels in October, at the retail price of $99.99.
---
Review of AMD Ryzen 3 1300X [AM4]
The folks over at MadboxPC got their hands on the new AMD Ryzen 3 1300X [AM4] CPU, and have given it a thorough review (in Spanish). If you're not fluent, you may prefer to read Google's English translation of the review.
---
IRDM by GOODRAM to be unveiled at IFA
IRDM by GOODRAM is a new lineup of memory products dedicated to gamers and enthusiasts to be unveiled in a world premiere at IFA on 1-6 September 2017 in Berlin.
Laziska Gorne, Poland, 21 July 2017 — GOODRAM, the memory brand created by Wilk Elektronik SA, European manufacturer of storage products, is attending IFA 2017 – The Leading Trade Show for Consumer Electronics & Home Appliances. GOODRAM representatives will be present throughout the trade show at booth no. 118, hall 17. The Polish memory company is at the show to premiere a range to meet or exceed the expectations of the most demanding users. IRDM is planned by its developers to be a strong international brand dedicated to gamers and users looking for the fastest products with modern design.
---
AMD Ryzen 3 1300X And 1200 Processor
AMD is officially launching its latest series of Ryzen processors today, the affordably priced Ryzen 3. As the branding suggests, Ryzen 3 will complement the previously launched Ryzen 7 and Ryzen 5 series of desktop processors, but will target lower-cost, entry-level price points.

Ryzen 3 isn't your typical, entry-level processor, however. Ryzen 3 actually features the same die as its higher-end siblings, but has fewer active cores and symmetrical multi-threading (SMT) has been disabled. Ryzen 3 processors feature quad-core configurations, however, they leverage the same socket and packaging, have the same features, and are fully unlocked for easy overclocking…
AMD Ryzen 3 1300X And 1200 Processor Review: More Affordable Zen
---
---
AMD Ryzen 3 1300X and Ryzen 3 1200 CPU Review
"AMD debuts its Ryzen 3 1300X and Ryzen 3 1200 processors today and we have ran them through their paces to see how they perform."
---
EVGA Scavenger Hunt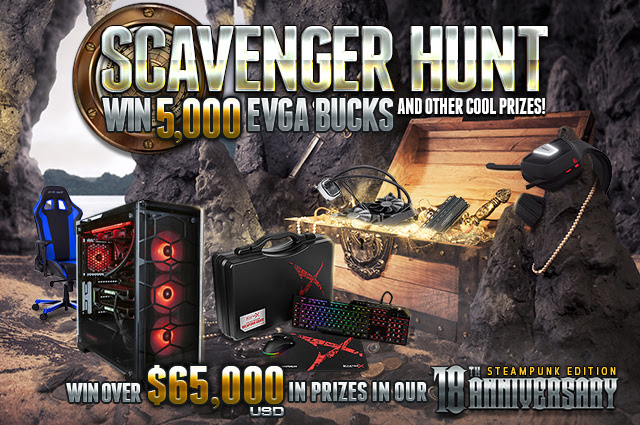 Once again, EVGA presents to you our ever-popular annual Scavenger Hunt. Dig into the deepest recesses of EVGA's inner workings to find badges for a chance to win some amazing prizes from EVGA and our sponsors!