Nextbook Flexx 10 Specifications
• 10.1 inch High-resolution 1280 x 800 IPS Screen
• Intel® Atom Quad-Core / 1.8GHz (Z3735F)
• 2GB DDR3L; 32GB onboard storage
• WIFI 802.11 b/g/n
• Bluetooth 4.0
• Front-facing Camera 2.0 MP
• Back Camera 2.0 MP
• Micro HDMI
• Pogo Keyboard with two standard 2.0 USB Ports
• Micro-SD card slot for expansion to 64GB (works with up to 128GB Tested)
• Support 3 -axis G-sensor
• Built-in microphone
• 7000 MAH Internal rechargeable battery
• Charging indicator light
• Windows 10
• Office Mobile
Get Word, Excel, PowerPoint and OneNote apps that are built for Windows tablets for a rich offline experience.
**All Windows 10 devices have been tested for the Windows 10 November update and can accept the update**
• Flexx 10 tablet
• Wall Power Charger (AC adaptor)
• Quick Start Guide
• Instruction Manual
As far as specs go, this is pretty typical for your Intel Bay Trail processor. Yes there is only 2GB of DDL3L and no its not upgradable. We honestly didn't see a slow down for average browsing and "light" computing. The front and back cameras are only 2.0MP which is kind of a let down but its acceptable for video conferencing and given the price tag we can't complain much. As we mentioned earlier we have tested the Micro-SD card slot with a 128GB card which worked fine, though it may not work with all brands so YMMV.
The listed 7000 mAh battery is actually two batteries at 3500 each as shown below: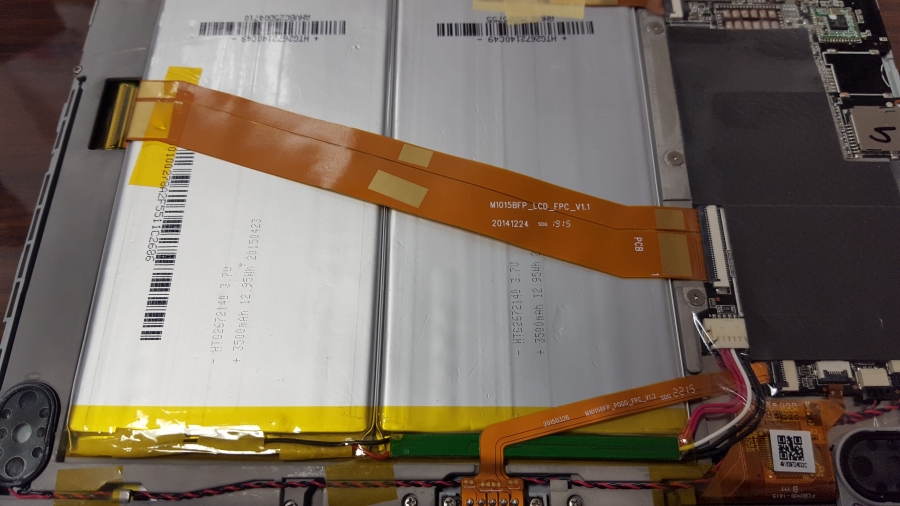 The remainder of the specs are pretty decent though nothing earth shattering. The Flexx 10 has a 1280 x 800 IPS screen, supports touch input, has 32GB of onboard storage, Bluetooth 4.0, and a 3 Axis G-sensor.  The Flexx 10 comes in at 2.57 lb with the keyboard making it very lightweight for a 10″ Windows tablet.
Dock, Ports, Keyboard, Speakers, and Cameras
Keyboard:
The included keyboard also serves as a dock and does not add battery life but does expand the Flexx 10 capabilities by granting access to 2 additional USB 2.0 ports. These USB ports are a double edged sword in that they allow for expansion but are simple non-powered USB 2.0 ports. This means that any external drives or devices that require additional power will not work. Many of your USB 3.0 drives and devices will also not work. What will work are 99% of USB 2.0 thumb drives, many simple USB 3.0 drives (at USB 2.0 Speeds) and AC powered USB devices (at USB 2.0 Speeds).
Ports:
The Flexx 10 comes out ahead in ports but not layout. Included are Micro HDMI, Micro-SD, Micro-USB a headphone jack, microphone, and AC port. All of the ports are located on the left hand side of the unit with the AC adapter awkwardly positioned between the headphone port and  Micro-USB. I have accidentally plugged the AC adapter into the headphone jack a few dozen times already as they are nearly identical in size. Aside from the AC adapter plug port everything else is quite usable. The Micro USB port means you will either need an adapter to a full USB port or use an OTG drive with a Micro USB plug.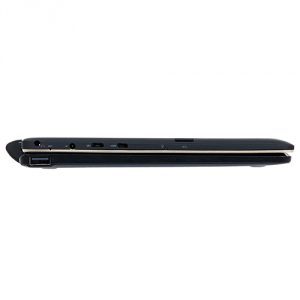 Cameras:
At 2.0MP the front and back cameras are both rated at maximum resolutions of 1600 x 1200. This is more than adequate for video conferencing but don't expect to take quality photo's or video with the Flexx 10 as these cameras aren't meant for that.
Speakers:
The speakers on the Flexx 10 are located on the back of the LCD panel on the bottom. This makes listening to the Flexx 10 difficult as the sound is directed away from the user. To make matters worse the speakers are very low power and don't put off enough volume to be heard clearly unless you are in a quiet environment. In most cases I found the headphone jack was needed and as I've discussed, its location was also not ideal.
Both of these issues, the speaker placement, and the low power could be forgiven in light of the cost of this unit, but the headphone jack should have been moved to a more convenient location. Otherwise, user be advised that headphones are pretty much a necessity with the Flexx 10.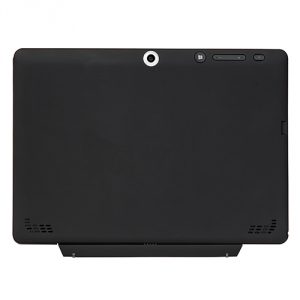 Build Quality:
The unit consists of two parts, the display which houses all primary components of the system, and a keyboard dock which also adds two USB 2.0 ports and a touch pad. The LCD unit is built well with no construction issues. The start button, volume rocker, and power button are all solid and won't present any long term problems. The keyboard dock utilizes two opposing metal latches and the corresponding framework in the LCD unit is also metal so breakage there should be at a minimum. The bending/flex of the unit when joined is more than I would like to see but overall it feels sturdy and I don't believe it will break. Disconnecting the LCD from the dock is a matter of a simple push button release located at the center front of the dock.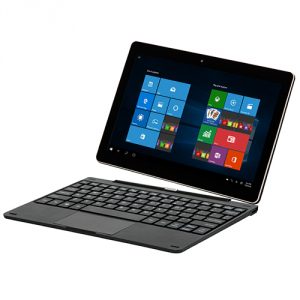 Overall when closed the hinge mechanism resists opening a bit more than I would like but its not so difficult as to be a problem and it also secures the unit from accidental opening. Undock as well as docking process has a very positive "released" and "secured" feel and I don't worry about the unit coming apart if I don't want it to.