NuForce uDAC-2 Digital-to-Analog Converter Review
Specifications:
Input
USB (USB 1.1, 2.0 compatible)
USB DAC: USB 1.1, 2.0 compatible.
USB native bit rate: 32, 44.1, 48, and 96 kHz, 24-bit
Maximum sampling rate: 96kHz
Resolution: 24-bits
Output
Analog RCA Output = 2Vrms
Dynamic Range: 90dB
S/N Ratio: 98dB
THD+N 0.05%
Digital Output: coaxial RCA 75-ohm
Headphone output jack

Power output: 80mW x 2 @ 16-Ohm

Headphone impedance 16-300 Ohm
Frequency Response
Power
USB Bus Powered, 80 mA/5V
Maximum power consumption: 500mW
Dimensions
Sound Quality:
A person who buys something like this uDAC-2 is buying it specifically for superior sound. It's difficult to test sound quality, but I can personally vouch for the uDAC – it just sounds great, crystal clear and awesome. The output is very consistent and clean.
Form Factor:
The uDAC-2 is tiny! All joking aside, this thing is surprisingly small, which I love. It's materialistic design is just awe inspiring and this isn't a device that's going to clutter your desk or audio config.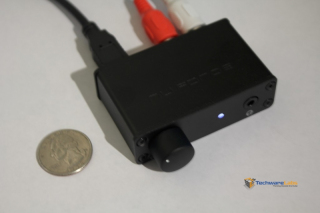 Conclusion:
No one should be without one of these little guys. As a laptop user, I'll be packing the uDAC-2 with me for years to come. If you enjoy audio at all, consider the signal your feeding your high-end speakers. You owe it to yourself, let your speakers shine with the uDAC-2 by NuForce.