Introduction:
Screaming every obsenity in the world wont bring your data back if your hard drive dies. Good news! if your data is stored on a SSD your chances of data loss decrease exponentially. OCZ is a serious contender in the memory market, it comes as no surprise they have a full line of SSD drives as well.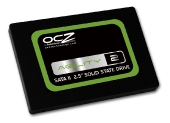 Meet the OCZ Agility 2
"Based on a cutting-edge new architecture, Agility 2 Solid State Drives deliver unprecedented performance while maintaining an affordable storage solution for early adopters looking to update their systems with the latest technology."
Solid state drives not only offer an enormous reliability advantage over traditional hard disk drives, they offer great performance increases as well. Most people operate under the assumption it takes great money to get great performance. The Agility 2 claims to be the exception.  Let's see if the Agility 2 has the moves to keep up with its boasts.
Packaging:
OCZ definately crammed everything in this package quite efficiently looking at the size of the box I was surprised to see anything other than the SSD, they also included the screws and a 3.5″ mounting bracket. these may seem like trivial features but keep in mind this is a "budget friendly" SSD, usually included accessories are the first place a company might try to decrease cost.
Specifications:
Available in 40GB to 480GB capacities
Native TRIM support
Seek Time: .1ms
Slim 2.5″ Design
99.8 x 69.63 x 9.3mm
Lightweight: 77g
Operating Temp: 0°C ~ 70°C
Storage Temp: -45°C ~ +85°C
Low Power Consumption: 2W in operation,
.5W in standby
Shock Resistant up to 1500G
RAID Support
Included 3.5″ Desktop adapter bracket
Compatible with Windows XP, Vista, 7, Mac OS X and Linux
MTBF: 2 million hours
3-Year Warranty

40GB Max Performance
Max Read: up to 280 MB/s
Max Write: up to 270 MB/s
Sustained Write: up to 200 MB/s
Random Write 4k (Aligned): 10,000 IOPS
50-240GB Max Performance
Max Read: up to 285MB/s
Max Write: up to 275MB/s
Sustained Write: up to 250MB/s
Random Write 4KB (Aligned): 10,000 IOPS
400-480GB Max Performance
Max Read: up to 250MB/s
Max Write: up to 240MB/s
Sustained Write: up to 200MB/s
Random Write 4KB (Aligned): 10,000 IOPS