Introduction
For some people, fast isn't fast enough. They aren't content unless they're at the bleeding edge of gadget speed. Maybe waiting more than 3 seconds for an application to launch kicks in their ADHD. For whatever reason to need the speed, OCZ's new SSD is looking to be the drive to replace your SSD. Here we have the OCZ RevoDrive. The RevoDrive actually combines two SSDs in a RAID 0 and probably doesn't look like any hard drive you've seen before. To reach SSD shattering speeds, the RevoDrive uses your PCI-E x4 slot, forgoing the standard SATA interface. It's as if the host of Pimp My Ride walked into OCZ's R&D department and said, "Yo dawg, I heard you like SSD's, so I got you an SSD for your SSD. Instead of that slow-ass SATA 6G, we're gonna roll in your PCI-E slot too."
By now you've probably figured that the drive is fast, but just how fast? Does all this speed mean you're going to have to take a second mortgage to get it? You'll just have to read on to find out.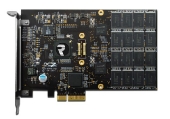 Manufacturer Overview
Focusing on both performance and affordability for consumers, the RevoDrive PCI-Express SSD is designed to accommodate a wide range of computing environments beyond everyday use to video-editing and other multi-media creation and management applications.

Moving beyond the bottleneck of SATA II, the RevoDrive features a PCI-E interface to deliver superior speeds up to 540MB/s reads and random 4k writes up to 75,000 IOPS. Designed for high-performance gaming PCs and workstations, the RevoDrive has the unique capability to run both Windows and your essential applications and games to not only provides a more responsive PC experience, but promote a cooler, quieter, and more energy efficient conditions compared to traditional mechanical hard drives.

RevoDrive is available in 50GB up to 480GB capacities to offer extensive space for the latest operating systems, game titles, and applications for snappier boot and load times. The RevoDrive series comes backed with a 3-year warranty and ultra-reliable 2 million hour mean time between failure (MTBF) rating.
Specifications
Available in 50GB to 480GB capacities
PCI-Express interface (x4)
For use as primary boot drive or data storage
Internal RAID 0
181.07 (L) x 21.59 (W) x 125.08mm (H)
Shock Resistance: 1500g
Seek Time: 0.1 ms
Operating Temp: 0°C ~ +70°C
Storage Temp: -45°C ~ +85°C
Power Consumption: 3W Idle, 8W active
MTBF: 2,000,000 hours
3-Year Warranty
Compatible with Windows XP 32/64, Vista 32/64, Windows 7 32/64
50-80GB Max Performance
Read: Up to 540 MB/s
Write: Up to 450 MB/s
Sustained Write: Up to 350 MB/s
Random Write 4KB (Aligned): 70,000 IOPS
120GB-480GB Max Performance
Read: Up to 540 MB/s
Write: Up to 480 MB/s
Sustained Write: Up to 400 MB/s
Random Write 4KB (Aligned): 75,000 IOPS
The read and write performance that the drive claims is faster than any other single drive that we have reviewed. Posted specs don't always tell the whole truth though. That's what we have benchmarks for, but first a closer look.