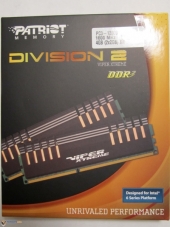 Patriot Memory has continued to raise the bar with their excellent products over the years, and unsurprisingly, they've done it again.  The new Division 2 series of their Viper Xtreme series RAM is a refinement that updates the line from Intel's P55 platform to the new 6 series platform, adding XMP profiles to automatically figure out the finer points of overclocking, making the process much more transparent to the end user, saving hours of testing, noodling, and fiddling occasionally needed to get the system performing at its peak.  Like the rest of the Viper series, these modules are cooled by an aggressively finned (but surprisingly compact) aluminum heat sink.  Exclusive to the Viper Extreme series is a six-gram slab of copper acting as a heat spreader, coupling the hottest parts of the chips to the aluminum radiator to speed the transfer of heat away from the sensitive components.  Overkill?  Perhaps, but for extended periods under load such cooling can prove useful in preserving system stability.  Here's how Patriot puts it:
Patriot's Viper Xtreme Series, Division 2 Edition memory kits are designed for Intel's® 2nd Generation Core™ processors. Engineered for PC Gamers and enthusiasts the Viper Xtreme Division 2's utilize a custom designed heatshield solution with an outer shield built around a copper core to provide enhanced cooling. Each module has 6 grams of copper at its core paired with extruded aircraft-grade aluminum outer shield. Built from only using the highest quality pre-sorted IC's available, they are rigorously tested and validated on the Intel® 6 Series platform to achieve maximum performance and stability. These modules are engineered to reach PC3-12800 (1600MHz) at 8-9-8-24 timings and are available 4GB kits (2 x 2GB) and 8GB kits (2 x 4GB). Each module is 100% hand-tested to quality assurance and is backed by a full-lifetime warranty and industry leading customer service.
In other words, Patriot has over-engineered the living daylights out of their heat sinks, coupled it with hand-picked low-latency chips, and feels sufficiently confident in the result that they promise that if you're not abusing the product, it will continue to work until obsolete (or longer).  Gamers, overclockers, and enthusiasts should get a warm fuzzy feeling from that bluntly stated assertion of quality.  Speaking of low latency, the timings on this memory is pleasantly tight.  As a result, your CPU will spend less time twiddling its digital thumbs, and more time crunching whatever data you have for it – whether something important, like a real-time astrophysics simulation, or something less important, like those other real-time physics simulations collectively referred to as "games".  Clocking in at $80 retail, and $65-70 street, it's not exactly cheap memory but the price buys you a lifetime warranty, and one of the best air-cooling systems I've seen on RAM to date.  It also claims "extreme performance" and "low latency" for that price, but let's not jump to conclusions before the benchmarking.