When building a computer from the ground up, your starting point should be your processor. The ram, drives, and video card are all secondary to the capabilities of your processor and motherboard. AMD has always been a bit of an underdog, getting their start in 1969, AMD has fought hard to become the powerhouse they are today. At a time when other manufacturers are resting on their haunches, AMD is still striving to provide the absolute best bang for your buck.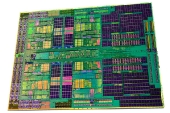 We have the distinct pleasure of getting our hands on AMD's Phenom II x 4 970. In addition to being a quad core powerhouse, this processor is sub $200. If that doesn't seem impressive let me break it down for you, AMD's latest and fastest quad core processor is ~$185 whereas Intel's only sub $200 offerings are either last generations processors, or one mid-range "i" series.
Specifications:
Phenom II™ X4 970 Black Edition Processor:
Model Number & Core Frequency:
X4 970 / 3.5GHz
OPN:
HDZ970FBK4DGM
L1 Cache Sizes:
64K of L1 instruction and 64K of L1 data cache per core (512KB total L1 per processor)
L2 Cache Sizes:
512KB of L2 data cache per core (2MB total L2 per processor)
L3 Cache Size:
6MB (shared)
Total Cache (L2+L3):
8MB
Memory Controller Type:
Integrated 128-bit wide memory controller *
Memory Controller Speed:
Up to 2.0GHz with Dual Dynamic Power Management
Types of Memory Supported:
Unregistered DIMMs up to PC2-8500 (DDR2-1066MHz) -AND- PC3-10600 (DDR3-1333MHz)
HyperTransport 3.0 Specification:
One 16-bit/16-bit link @ up to 4.0GHz full duplex (2.0GHz x2)
Total Processor-to-System Bandwidth:
Up to 37.3GB/s total bandwidth [Up to 21.3 GB/s memory bandwidth (DDR3-1333) + 16.0GB/s (HT3)
Up to 33.1GB/s total bandwidth [Up to 17.1 GB/s memory bandwidth (DDR2-1066) + 16.0GB/s (HT3)
Packaging:
Socket AM3 938-pin organic micro pin grid array (micro-PGA)
Fab location:
GLOBALFOUNDARIES Fab 1 module 1 in Dresden, Germany (formerly AMD Fab 36)
Process Technology:
45-nanometer DSL SOI (silicon-on-insulator) technology
Approximate Die Size:
258mm2
Approximate Transistor count:
~758 million
Max TDP:
125 Watts
AMD Codename:
"Deneb"
*Note: configurable for dual 64-bit channels for simultaneous read/writes
Let's see how this budget beauty performs.