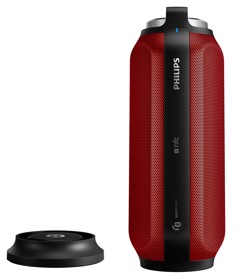 Philips wireless portable Bluetooth speaker BT6600 wins!
 CES 2016 Innovation Award
In Portable Media Players and Accessories category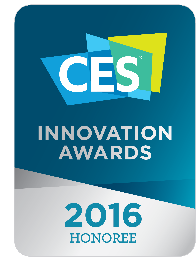 LAS VEGAS – January 6, 2016 <<Consumer Electronics Show>> – Gibson Brands is proud to announce that the Philips BT6600 Wireless Portable Speaker has been awarded with the CES 2016 Innovation Awards HONOREE in the Portable Media Players and Accessories product category. The CES Innovations Design and Engineering Awards is are an annual competition honoring outstanding design and engineering in consumer electronics products.
Delivering sound experience and convenience unsurpassed in a compact size speaker, the BT6600 delivers spectacular 360o of high quality sound anywhere indoors or outdoors, rain or shine, and is available in a variety of colors. The exciting speaker features Bluetooth™ multi-pair technology that allows consumers to connect three smart devices at the same time. It also includes NFC, enabling easy Bluetooth pairing. Without the hassle of disconnecting and connecting a smart device to the speaker, this allows for simple tapping of an NFC-supported smartphone on the speaker, to quickly connect.
Affording even greater flexibility, an extra-long built-in rechargeable battery and splash-proof design, lets consumers enjoy music for hours, anywhere they want.  The BT6600 also features a power bank to allow charge of other smart devices.          
"We're very proud that the industry has recognizing this great product that allows so much quality, flexibility and versatility for consumers," said Benjamin Ngo, Audio Business Leader, Gibson Innovations. "By being able to share music amongst your friends through multi-pair, this powerful, portable and durable speaker really is the perfect companion for those constantly on the go."
The Philips Wireless Portable Speaker BT6600 allows music lover to play tunes loud and powerful.  To deliver wide spatial 360o sound experience, a pair of speaker drivers and passive radiator is located at the front as well as at the rear.  To give an added blast of bass and enhance sound quality, it also features two passive linear radiators and a digital sound processer.   The BT6600 features a super long 12-hour battery life so users can play music all day.  To recharge its built-in battery, consumers simply place the device in the by-pack charging dock. There's no need to need to stop music, with the simultaneous charging and playback capability.
Feature summary:
16W RMS music power
Built-in battery with 12-hour life
IPX 4 splash proof tested
Multi-pair for up to three different smart devices
Digital sound processer which optimizes the performance of compact speaker
Opposing full-range drivers and linear passive radiators deliver a wide spatial sound
Includes a charging dock base for easy and convenient recharging
Power bank with USB output
NFC for easy Bluetooth pairing
Built-in mic for speaker phone
Available in black, blue and red colors. Main unit size: 76mm x 214mm x 76mm
The BT6600 portable Bluetooth speaker is now available.
About the Philips brand
Over more than 120 years Philips has grown to become a leading, highly trusted brand in markets all over the world. An innovation leader, Philips has been responsible for groundbreaking technologies in sound and entertainment including portable radio, the compact cassette and recorder, and the compact disc. Today, Royal Philips and its brand partners continue to improve people's lives through meaningful innovation. For further information go to www.philips.com.
About Gibson Brands
Gibson Brands is a global leader in musical instruments, consumer electronics, and professional audio and is dedicated to bringing the finest experiences to consumers by offering exceptional products with world-recognized brands.
Founded in 1894 and headquartered in Nashville, Tennessee, Gibson Brands has manufacturing, marketing and research and development centers throughout the world. Gibson Brands is dedicated to improving the quality of life and music for its customers.