Introduction:
One of the promises of the cyberpunk future has been the idea of implanted computers, devices that never need to be upgraded or recharged. Sadly, this is more than a few years off for most of us. Until then, we'll continue to haul our laptops, smartphones and tablets around, along with all the power cables, data dongles, and other accessories they require. This means some sort of carrying bag is required. Another persistent annoyance is the tendency for the latest and greatest smartphones to chew through their batteries in far less than a full working day. This is especially true for the latest crop of LTE-enabled smartphones, as the need to constantly run two high-drain cellular radios makes them chew through even the beefiest of batteries like a fat kid through a box of doughnuts.
Spying an opportunity, Powerbag has come out with a line of carryalls designed to address our need to both carry stuff and keep it charged. Today we'll be looking at the Instant Messenger, a messenger bag designed for those who want to carry all of their essential gadgets with a minimum of weight, fuss and bulk in comfort.
A Closer Look:
From the outside, the Instant Messenger is covered in basic black canvas, with a bit of white piping around the edge of the main compartment flap. The power button is visible just below the flap when closed and buckled, but doesn't draw attention to itself with flashy colors. The carry strap is adjustable, but not removable; YMMV as to whether this is a feature or a bug. The small zipper pouch on near the top carry handle is padded, meant for sunglasses or some other item that is both frequently needed and easily scratched.
The power button itself deserves some mention; it resides on the outside bottom of the bag. This raised some questions about accidental activation; in practice the bag does not turn on or off without a firm, continuous press. A simple tap—which still requires some force—only activates the indicator lights for a few moments. There are four lights in total, the number lit tells you approximately how much charge is in the Instant Messenger's 6000mAh battery.
Opening up the big flap, we see a couple of zippered pouches flanking the power button. These pouches are endowed with a charging cable each: one side has a double-ended mini/micro-USB cable, while the other features an Apple dock connector for charging various iDevices. These pouches are just large enough to fit most smartphones.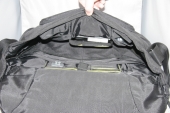 Opening up the main compartment, we can see several of the pertinent features. The green zippered pouch near the front houses the Instant Messenger's central charging mechanism, as well as the removable battery. The charger also has a USB port on it, which is capable of delivering more current than either of the connectors in the outside zipper pouches. Tablet users will find this handy, as the main compartment also features a padded tablet pouch (seen here at bottom) that can handle tablets up to 10 inches. There are several other velcroed pouches placed all over the interior, to help you keep your odds and ends sorted. Another neat feature is the inclusion of a split rubber spindle, around which you can wrap the cables for your earbuds or IEMs of choice when not in use.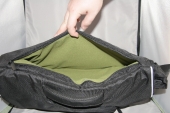 The laptop pouch, accessible from the top with the main flap closed, is lined in the same olive green felt as the other padded pouches, and is sized for laptops up to 15 inches in width. Sadly, my HP 17″ dv9000 measures 15.5″ on its longest axis—a half-inch too long to fit, but it rests quite comfortably in the main compartment. A more svelte 17″ laptop, such as the Macbook Pro, might conceivably squeeze in, but be very sure of the overall width of your laptop before you commit to this bag.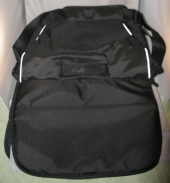 Powerbag's website makes mention of a "checkpoint friendly" design, and at first I was baffled by this. Closer inspection revealed that there was one more zipper than there were compartments. Unzipping this zipper caused the whole bag to hinge open at the top, separating out into two neat halves. If your laptop fits into the laptop slot, this lets you run the bag through the x-ray scanners at the airport without having to pull the laptop out. A minor time saver to be sure, but every little bit helps when dealing with modern air travel.