Rosewill Computex 2013 Lineup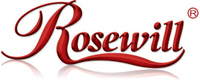 Rosewill is stepping up their game at Computex 2013, showing off a bold new trio of cases. They're also offering some new networking gear, and some new additions to their line of gaming peripherals.
First up in cases, the Throne looks to have taken a few design cues from NZXT's popular Phantom series, though it hardly stops there. With aggressive styling, plenty of cooling, and enough space to mount an E-ATX board with room to spare, this case could well be a fine starting point for a truly impressive system.
The next two cases are a departure from the norm in shape and size. The Rise is what you might call a maximal-minimalist case; as you can see it has enough space to mount an E-ATX board with two 2x120mm radiators–and that's about it. Given that many gaming systems get by on a single SSD for storage, without even bothering with an optical drive, this may well be the perfect case for your next killer LAN party rig.
The third case of interest, the Neutron, builds out rather than up. Eschewing the larger motherboard form-factors, the Neutron mounts a mini-ITX board horizontally, with just enough space for a single dual-slot video card. A three-drive HDD cage shares space with the power supply mount below, while a single 5.25″ bay hangs from the roof of the case a hair's-breadth from a stacked pair of 120mm intake fans.
In networking, Rosewill is coming out with new gateway routers in both the N and AC flavors of 802.11, along with powerline network extenders for people who live in more radio-noisy environments.
In keyboards, Rosewill is introducing some new mechanical keyboards based on the Cherry MX switch series, ranging from the big and flashy down to the compact and stylish. Alongside those they showed off a pair of gaming mice, each aimed at a different grip- and play-style. We look forward to seeing how these stack up to the competition.