Amazon has over 3500 results in their point and shoot digital camera section. It's hard to make waves in a market flooded with competitors. It comes down to three factors when looking at point and shoot cameras : Mega-pixels, optical zoom, and screen size. We are taking a look at Samsung's PL-210 let's see what the manufacturer has to say: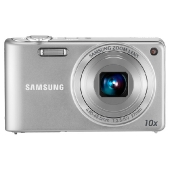 "A powerful zoom in a slim case delivers winning style and performance. The PL210's 10x Long zoom and 27mm lens let you capture previously hard-to-get images. Now you can record all the action on the far side of the field or get a wide shot of the entire team's victory celebration. The 0.8″-slim case is easy to hold; the large 3″ LCD screen lets you see everything and change settings with ease for detailed 14.2 Megapixel stills or HD-quality video captured in 720p."
Samsung's blurb has answered the three big questions, and provided us some mouth watering details about what this compact beauty can do. I'm interested to see how it performs, often these point and shoots fail to deliver where it counts. As a former SLR user I expect a lot out of my cameras. Lets take a look.
Packaging:
The packaging is very straightforward, boxes like this typically don't see the light of day in most retail stores. These small electronics are kept in locked counters or the back room due to high theft. The box is simple and pleasing, it even highlights some of the features.
Contents:
The box contents are what you should have come to expect from a small digital camera. You have a wrist strap, a battery, charger, and data cable.
Highlights:
The camera has some weight to it (this usually denotes quality)
The charger cable is also the USB cable, and can plug into any standard USB outlet (VERY HELPFUL)
The Charging cable has an LED, this simple LED makes a world of difference and lets me know that Samsung out some thought into this.