Introduction:
With laptops going mainstream and everyone looking for the smallest and lightest possible mobile computer companies have to make sacrifices in the name of battery life and unit size. Usually the sacrifice is screen real estate and hard drive size, fortunately Sans Digital as a fix for this reduction in hard drive size and speed and it comes in a beautiful redundant flavor. While not actually an editable product it is none the less one of 12 other options in the Towerraid series each featuring different connection options or drive arrangements. Join me while I review the TR5UT(-B) which is in the middle of the Sans Digital Towerraid product line of external raid storage.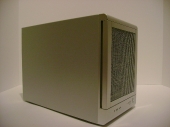 Features:
Hardware RAID, supporting RAID 0, 1, 10, 3, 5, JBOD, Clone and hot spare disk.
Over 200MB/s read and 170MB/s write performance.
eSATA and USB 2.0 interface.
Bundled SATA 6.0Gbps PCIe 2.0 x1 controller card, supports PCIe 2.0 with over 200MB/s performance. (Highpoint R622)
Backward compatible with PCIe 1.0 slot is supported.
True hardware RAID design within the enclosure, no driver and no additional RAID controller needed.
New Clone mode (N-way Mirror) – all the hard drives connected will be mirrored. Clone mode is especially useful when users would like to copy data form a hard drive to several hard drives at the same time.
Supports SATA I (1.5Gb/s) and SATA II (3Gb/s) hard drives.
Over 2TB per volume via eSATA and USB on OS that support 2TB and above.
Automatic insertion / removal detection and rebuild.
Hardware RAID with standard Interface. No extra drivers required.
Included five hot-swappable hard drive trays for easy trouble shooting.
Compact, stylish 5 bay tower design with protective ventilating cover.