Introduction
Are you an avid gamer but hate the sound of whirring fans?  Looking for a Video Card with the power to play today's latest games without the loud fans usually associated with a quality gaming card?  I am.  So when I got in the Sapphire Radeon 6670 Ultimate 1GB video card, I was pretty excited.  Sapphires' Ultimate line of video cards boasts the ability to be cooled without a fan (Passive cooling), perfect for a silent build.  The 6670 Ultimate has the same clock speeds and technology as the HD 6670 with the added bonus of passive cooling.  This card still has all the features AMD cards boast: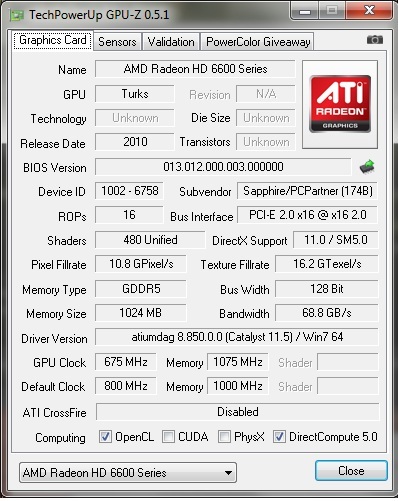 Eyefinity Support
DirectX11
HMDI (with 7.1 surround), DP, and DVI outputs
1GB GDDR5
Crossfire Capable

But Sapphire has gone a step further and added a few goodies to the package:
1.8m HDMI cable
Dirt 3 game coupon
VGA/DVI adapter
It's nice to see Sapphire is including these.  There's nothing worse than getting home and realizing you need an adapter or a cable.  Goodies aside, lets delve into this card a bit more and see what it can do with todays' latest games.