Introduction
The Sapphire Radeon HD 6870 is a video card targeted at the mid-range market with a price point below $200. As such, it stands to reason that the 6870 should perform as an excellent upgrade for anyone looking to beef up a rig that has begun to show its age. With this in mind, the test system used for the 6870 will be something a typical user could expect to have built four to five years ago.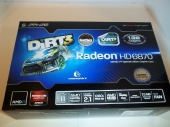 System Specs
Intel Core 2 Duo E6850 (3.00 GHz)
4 Gigs of DDR2 @ 1066 MHz
EVGA 680i SLI motherboard
Windows 7 64 SP1

Expectations
With this admittedly aging setup, it is my hope that the 6870 will be able to 'refresh' the system, allowing modern games to be played at an acceptable graphics level, with acceptable frame rates, on a mid level monitor running at 1440×900 resolution.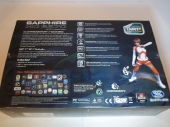 Since this particular version of the 6870 boasts an 'overclocking edition' on the box, overclocking ease and performance gain will also be taken into consideration.