Drivers and Customization
As with any gaming mouse, the hardware is only half the story. To be useful, it must have good software too.
My first experience with the drivers came before I even opened the customization window. After installing the drivers and rebooting, I was greeted by a loud…noise. I can't really describe it, except to say that it obviously came out of a synth, and went on too loudly and far too long—a good 5 seconds at least. Upon investigation, I found out that the DarkGlider drivers play this noise for you every time you log in. Why they think I would want this I'm not sure, since Windows already has a system sound event to tell me I've logged on successfully. Thankfully, you can turn this off in the settings window.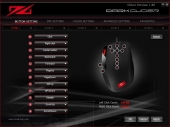 When you load the configuration tool, this is the screen that greets you. Each of the mouse's 7 buttons can be remapped, as well as the scroll, tilt and click functions of the wheel. Here I've remapped the wheel tilt to the PgUp and PgDown keys, since most games won't let you bind Scroll Left and Scroll Right to anything. I've also disabled Mouse10 on general principle, though the default "Game Key" function isn't even recognized by any game I've tried.
Each of those pull-down menus lets you map any of the keys to several different functions. Beyond the usual mouse keys and keyboard key emulation, it has pre-set macros for cut (Ctrl-X), copy (Ctrl-C), paste (Ctrl-V), undo (Ctrl-Z), select all (Ctrl-A), find (Ctrl-F), new document (Ctrl-N), print, (Ctrl-P), Save (Ctrl-S), swap windows (Alt-Tab), and close window (Alt-F4). Additionally, it has macros for several of the system-wide keyboard shortcuts introduced in Windows Vista, including launching a new Explorer window (Win-E), opening the Run dialog (Win-R), Show Desktop (Win-D), and Lock PC (Win-L). And if you so desire, you can map the most common media keys—Play/Pause, Stop, Previous, Next, Volume Up, Volume Down, Mute—as well.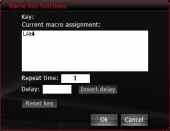 User-defined macros are possible, though inputting them is quite a chore. There's no way to set a default delay between key-presses, and the normal behavior is to send the key codes as fast as possible, which causes most games to ignore part of the input. Instead, you must manually type in a delay value in the box below the main display area and click Insert Delay between every keypress, every time. In an added layer of frustration, there's no way to save macros for quick reassignment. You must input every macro, with every delay, every time you remap a key. And woe betide you if you accidentally press a wrong key during the input sequence; there's no editing of the macro you're currently inputting, only a button to wipe out everything you've put in and start over.
The DPI setting tab is very simple and straightforward. The mouse has six preset stops that you can enable or disable individually by clicking anywhere in the large box around each one. Unfortunately, you cannot change the value of these DPI stops; they're set in stone.
The third tab lets you customize the light behind the Sharkoon logo at the mouse's rear. You can choose from one of 32 preset colors, one of four intensities (off, low, medium, high), and one of four pulse rates (steady, slow, med, fast). Note that this is only for the Sharkoon logo, the DPI display is not affected.
The fourth tab covers all the miscellaneous settings, including pointer speed, mouse sensitivity, double click speed, horizontal scroll speed, USB polling rate, and whether you want that noise at system startup. You can also adjust sensitivity separately for X and Y-axis movement, if that's helpful for you.
The favorites list lets you assign certain profiles to certain games. This is accomplished by manually browsing for the game's .exe file and choosing a profile to attach to it, at which point it will switch profiles on the fly. If you play a keybind-heavy game like World of Warcraft or Star Wars: The Old Republic, this will give you that many more places to bind actions. Associating a profile with explorer.exe will give you a default that will reassert itself whenever you go back to the desktop.