Introduction
After years of waiting for the USB 3.0 spec to be written up and released to consumers we finally have a solid USB interface that is fast enough to meet the growing need for fast access portable storage! Let me introduce one particular USB 3.0 product that  features this cutting edge 3.0 interface, the Silicon Power Armor A80 portable hard drive. With an ample 640GB of storage ready to rock 'n' roll Silicon Power provides a storage solution ready to please. Not only is the hard drive capacity large and the form factor small enough to take on the road, the drive is waterproof and shockproof (3rd party tested) making this portable hard drive a cut above the rest.  With it rugged abilities, hi-speed interface, and 640 GB of storage goodness this drive promises to be a winner for many storage hungry users.
Silicon Power's Take
Ultra fast transfer speeds – Armor A80's outstanding read/write speed is coupled with the latest USB 3.0 interface  and is compatible with USB2.0. The USB 3.0 interface features a 5 Gbps/sec bandwidth which is 10x the bandwidth of a USB 2.0 interface. It saves users precious time backing up to and from the hard drive when transferring mass data files. Water, pressure, vibration & dust proof – In compliance with IEC529 IPX7 waterproof test for one meter under water for 30 minutes, Armor A80 is still fully operation. It features dust, pressure-proof and ready for any unexpected situation such as rain, liquid-spillage or accidental drops. Shockproof – In compliance with US MIL-STD-810F (transit drop test), it was tested for (1) Product dropped directly onto a concrete floor (or harder surface) (2) On a drop-test machine, the product freefalls from a height of 122cm and from the freefall (3) There are 26 contact points, 8 corners, 12 cut surfaces, and 6 major surfaces that were tested.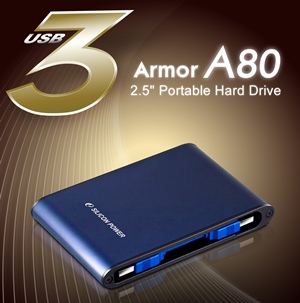 Silicon Power A80 640 USB 3.0 Hard Drive

Packaging
The drive arrived in a standard cardboard/plastic opening package showing off its simple yet sleek steel blue casing. The smooth exterior, covered USB port, and short cable stored on the drive's side casing are the true signs of a well thought out design. Unlike many other drives on the market the Armor A80 also features a military-grade tested design that ensures your data is safe even after drops or spills. Silicon Power claims the device can be submerged in water for 30 minutes without damage to the drive or its contents, this is definitely a unique feature we like to see in the portable drive market. The information printed on the back panel is good, but claims of a 5Gb/s speed are not 100% honest or accurate.  This 5GB/s is the theoretical speed that the USB 3.0 spec can support.  Due to the nature of rotational media, like the hard drive in this device, these speeds are not usually obtainable by consumer grade hardware in this price range.  Realistically this device will top out at speeds that the internal hard drive is able to obtain, which is a shame due to the presence of USB 3.0. We will cover the speed tests later in the review, for now lets take a look at those specs…
The A80 drive packed in cardboard with plastic surround.