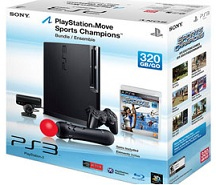 Not to be outdone by Microsoft's updated Xbox 360, Sony introduced two new PS3 models at today's Gamescom presser, including one bundled with the company's forthcoming 'Move' motion control peripheral, and packing a whopping 320GB hard drive.
The Move bundle–dubbed the PS3 Sports Champion Move Bundle–will include one controller (the bulbous glowing wand thingy), a copy of Sports Champion, the requisite PlayStation Eye camera, and a Blu-ray game demo disc.
All that, for $399.99.
The other model validates the recently rumored 160GB PS3, and Sony says it'll sell for $299.99, which we already kinda knew, since it's was showing up this morning for $299.99 on popular U.S. retailer websites like Amazon and Newegg.
Will you rush out to buy an updated XBox 360 or Sony PS3?  Does the release of motion based controllers for both Microsoft's and Sony's platform excite you? Are Sony and Microsoft attempting to outcast the Nintendo Wii?
Read more here…