Wearing the Glasses
Both pairs of the Sportsmans Eyewear glasses are comfortable to wear. Only one individual I had wear the glasses claimed that they were uncomfortable and would not be comfortable wearing them on a daily basis. I must point out that the back of the frame (the part that goes beyond your ear) is a little tight, but it is intended to be that way to hold the glasses still during rapid movement. I actually took the glasses on a road trip, leaving my normal glasses behind, and was surprised at the ability to wear these full time.
About the Sportsmans Eyewear 440/465
Both models of the Sportsmans Eyewear glasses record directly to a microSD card using the integrated 3 Megapixel lens. The operation and setup of the glasses is surprisingly simple. Once you unwrap the glasses, you simply plug them in, let them charge up, and you're good to go. Fortunately, the glasses are directly to the point. You do not need to install any third party software to read, write, or edit the files, which is an extremely nice feature.
As mentioned, the video is written directly to a microSD card, that is included in the kit. For those that know something about flash memory, the card that was included with ours was a Kingston 4GB microSDHC Class 4 memory card. Although this is more than necessary for most circumstances, a larger card would allow you to use the glasses to their full potential. Luckily, the glasses support up to 8GB memory cards which would theoretically allow for up to 4 hours of video, or a full charge worth if video. As for the class 4 memory card, we would like to see a class 6 come with the unit, although this may not be necessary.
The design and fit of the Sportsmans Eyewear glasses are similar to a pair of Oakley Flak Jacket sunglasses. Normally I would say that they are trying to copy the design, but it is not close enough to even be mistaken for a pair in person. When you wear the glasses, your field of view is not interfered with – a good thing if you want to wear these while you ride your motorcycle, shoot in a competition, or anything else that would require you to actually see out of your eyes. They do seem to be a bit of a tight fit in the rear, but I assume this is to make sure the glasses stay as still as possible.
ABOVE: Oakley Flak Jacket
Testing
WOW! Let me get that out of the way. I was absolutely blown away by the image quality of these glasses. I was expecting a grainy, jumpy, less than ideal video, that was depicted in the promotional video. The video was much better. Given it is NOT HD quality, but for standard definition, I was impressed. Thirty-five frames per second means that you are going to experience blur with extremely fast movements, but the Sportsmans  Eyewear adapts quickly and gets the new image in focus before you know it. Going from outside daylight to indoors is not an issue either. The brightness adjusts quickly and seems to never loose focus and adapt . As with all technology, performance is not 100% constant and can change based on different conditions. Of the 7 or so hours of video recorded during testing in multiple environments, actual frames per second rendered was between 29 and 36 frames per second (average taken from video recorded and exported to computer). The video does break up sometimes during quick movements, but that is almost to be expected.
Taking these glasses to the firearm range is an experience in itself. Watching the video, you feel like you in a real life game of Modern Warfare 2 (that's a reference for you gamers). You will have unique videos that will allow you to make improvements by seeing what exactly you are doing wrong. As gunfire is loud, we were glad to see that the Sportsmans  Eyewear could handle it without destroying the microphone or heavily distorting each shot fired. This is one situation where the clear lenses come in handy. If you are shooting indoors, you can simply change the lenses to use them as safety glasses and call it a day.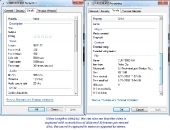 From the Law enforcement standpoint, Sportsmans Eyewear has potential to be extremely useful. Unlike an in dash camera, an officer can wear these and use the video as evidence for what he/she has seen on the job.  These glasses could also be useful in a hostile situation to keep a video record of what happened from the officer's point of view. As we have no police officers on staff, we were unable to test this scenario, only speak with officers on their standpoint.