HD Tune
HD Tune is a program that has been used to benchmark Hard Drives for years. While this program can be used for many things, its primary purpose is benchmarking the speed of a hard drive, and placing it into an easy to read graph. We are using this drive as a media drive, and thus the most important feature is the continuous read speed of the drive. Lets see what this Drive has to offer
| | |
| --- | --- |
| | |
As you can see, the Seagate out performs the Western Digital in just about every field. The average read speed of the Seagate was 109.2MB/s, while the Western Digital counterpart came in at a mere 88.5MB/s. Burst rate was also 13.1MB/s faster on the Seagate drive. In fact, the Seagate outperformed the Western Digital in every aspect, except Access Time. The western Digital was 0.7ms quicker to access the data than the Seagate . Although this is important, the amount of difference is almost unnoticeable. The Seagate was also more consistent in Access Times than the Western Digital. This means that although it is a little bit slower most of the time, you wont be stuck on either end of the spectrum like you might be with the Western Digital.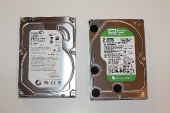 CrystalDiskMark
CrystalDiskMark is also a benchmark that has proven itself time and time again. Unlike the more popular HD Tune, CrystalDiskMark is a benchmark that cares about one thing: Transfer Speed. The main purpose of this benchmark in our eyes is to confirm the previous benchmark to be true. We have taken this benchmark in the same environment as the previous one. Lets see what the results have to say.
As you can see, the benchmark runs fairly parallel to HD Tune. Although the benchmark does not provide the same exact results, it can be seen that the Seagate drive still outperforms its counterpart for Western Digital. The gaps are a little smaller, but the numbers are similar, showing that the Seagate Drive is faster. At the end of the day, that's what matters.