Specifications:
The Triple Port splitter is a no frills product meaning there is no buttons that need to be pressed to reset the device, there is no fancy display that you would not think to reference after the first use. This no frills approach keeps the triple port splitter a no brain er to install and use, just plug it in and use. We haven't seen something this simple since we read the instructions on the wet nap at Sonny's BBQ, "Open… use.."
Warranty
2 Years
Color
Silver
Product Height
1.5 in [38 mm]
Product Length
6.73 in [171 mm]
Product Weight
9.88 oz [280 g]
Product Width
4.29 in [109 mm]
Accent Color
Black
Enclosure Type
Plastic
Ports
3
Maximum Digital Resolutions
One Display: 1920×1200
Two Displays: 3840×1200
Three Displays: 3840×1024
Wide Screen Supported
Yes
Output Signal
DVI-D (DVI Digital)
Connector A
1 – DisplayPort (20 pin) Male
Connector B
3 – DVI-I (29 pin) Female
Shipping (Package) Weight
15.36 oz [435 g]
Note Maximum Resolution is dependent on video card capabilities. A video card capable of outputting a maximum resolution of 3840×1024 from one DisplayPort port will power three monitors at 1280×1024.
The point to note here is the resolutions the triple display splitter is capable to handle and what the max resolution your monitors are able to support. Our test monitors are 1280 x 1024. So, we could not expect higher than 1024pixles in the height.
Closer Look:
| | |
| --- | --- |
| | |
|  Three DVI Single Link ports |  Top of the Triple Head DisplayPort |
The three single link DVI ports are clearly labeled 1, 2, and 3, so there isn't any confusion when it comes to which monitor should be plugged in to which DVI port.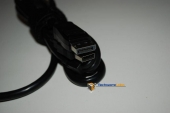 The triple display splitter comes with a Displayport +USB cable attached to the device. DVI cables to the monitors will need to be obtained by the consumer.
The cables that as a part of the triple display splitter is one DisplayPort and one USB cable. This USB cable is used to power the splitter, so you do NOT need the port to be USB 3.0, but it will need to be at least USB 2.0 to provide enough power.  The main issue consumers will need to be sure of before purchasing the triple display splitter is, do they have a DisplayPort on their desktop or laptop/docking station.