Introduction:
Do you remember the ONE big thing you wanted every year? You saw commercials about it and told your friends about all of its features, and how you were going to use it. I just got mine, the Synology Disk Station 210+, and I'm not the only one, Synology is so excited about it, it's the first item on their homepage.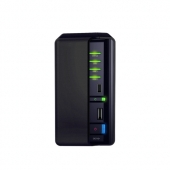 Synology Disk Station 210+

From The Site:  "Synology® DiskStation DS210+ offers a high-performance, secure, and full-featured network attached storage solution that helps small and medium-sized businesses centralize backup, protect critical assets and share files quickly and efficiently. Synology protects your investment in the DS210+ with a 2-year limited warranty."
At it's base level a NAS (or Network Attached Storage) is an external hard drive connected through an Ethernet port to your entire network. On its own that has amazing possibilities, but Synology has taken it above and beyond. The box has the slogan A "New NAS Experience". Join me as we see exactly what that means.