The all-in-one audio/MIDI interface that fits in your pocket.
The only Interface you need for making music on the go.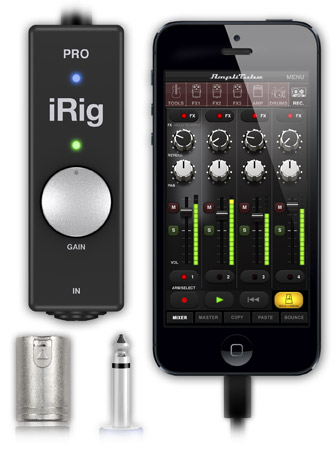 Wouldn't it be great to have one compact portable interface for your iPhone, iPad or Mac that you could use to connect your studio mics, your guitar or bass, your keyboards and your MIDI controller, and play, practice and record on the go? Ta Da! Now you can with iRig PRO.
iRig PRO is the first full-featured compact audio and MIDI interface you can use with your XLR microphones, your guitar and bass, your keyboard or other line-level source and your MIDI controllers. It features an XLR/1/4″ combo jack for connecting microphones and instruments (accepts XLR and 1/4″ TS cables), and features the same MIDI connectivity and controls found in our iRig MIDI interface.
Now when you're on the go, you can record vocals, harmonies, acoustic instruments, electric guitar/bass, keyboards and more without changing your interface and disrupting your creative flow. You will find iRig PRO to be the most versatile iPhone and iPad accessory in your gig bag. And when you get back to your Mac, plug iRig PRO into your USB port and keep jamming away on your laptop or desktop.
For more information please check out IK Multimedia here.