Thermaltake Gear at Computex 2013
At Computex 2013, ThermalTake is continuing their trend of introducing aggressively-styled, attention grabbing products. On prominent display were a couple of new products, the Level 10 M USB headset and the Chaser case series.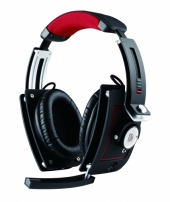 Continuing their collaboration with BMW Designworks, ThermalTake is expanding on the Level 10 brand with the Level 10 M USB headset. Aside from a rather distinctive look, this circumnaural headset sports features like an aluminum frame, an adjustable locking headband and a detachable cable that can plug into either side. We'll be interested to see if it sounds as good as it looks.
Also prominent in their lineup this year is the Chaser series of mid and full tower cases. Aside from the usual collection of huge case fans and the by-now de rigeur grommeted cable guides, the Chaser series sports an subtly Tron-esque look, with blue pinstripe lights adorning the front. We'll be interested to see if these cases have the performance to match their aggressive looks.