Thermaltake Pacific RL240 Watercooling Kit Review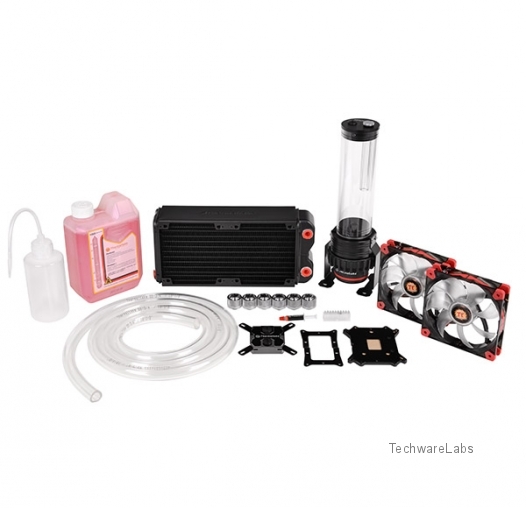 Introduction
From air cooled to fully mineral-oil submerged systems, enthusiasts take the idea of cooling in new builds to the next level. Air cooling is the basic form of cooling the consumer can purchase for their PC. It comes in many forms, shapes, and sizes, with the price ranging between $20 to $255. An air based cooler was likely included with the CPU you purchased. This stock cooler won't cut it for long if you plan to do intense gaming or if you want to get the most from your system. This of course means that any form of overclocking with a stock cooler is pretty much out of the question. Heat is the enemy and air based coolers can't effectively dissipate heat as quickly as modern CPU's can generate it.
On the other hand a starting enthusiast may opt in for a water cooled build and buy a closed-loop cooler. The best of the best in coolers comes in an open loop, water cooling kit. The difference between open and closed loop kits is the ability to add coolant, and components to the system. It is also a big difference in the ability to customize the cooling system to meet your needs and usually in overall quality. If you want to add a block for your video card or coolers for your ram then a custom open loop system is what you want.
There are many kits on the market, but today we get to test one of the best we have gotten our hands on. Thermaltake's Pacific RL240 is the icing on the cake, the real deal in water cooled kits. This Limited Edition kit comes with a 240mm dual-fan radiator, a PT40 D5 w/Silent Kit reservoir/pump combo, W1 CPU waterblock, 2 Luna Red 12-LED fans, and more. The RL240 is not for the water cooling newbie, though it could be installed, we recommend you have some experience or have someone to help you who has had experience. Directions are light and minimalist as you would expect with a custom kit of this caliber. Thermaltake includes some necessary tools you will need that they have custom created for their kit. Let's talk about what you get.