Thunderbolt Plus 800w, Lighting in a bottle, or static on the carpet?:
Many manufacturers fight to take the very important spot of power supply when it comes to powering your all star rig, many with aspirations far beyond their means. A relativity new company Thortech has decided to invoke the god of thunder in an attempt to  blast its way into our hearts with its Thunderbolt Plus line of power supplies. Thortech isn't truly a new company in the traditional sense it is instead a division of GeiL a high end memory maker.  The Thunderbolt plus power supplies come in a just one size currently, the 800w monster that I will be reviewing. The Thunderbolt Plus 800w hopes to set itself apart from the crowd by coming as modular power supply with a unique addition that I will go over further in the review. Join me while I determine whether the Thunderbolt Plus 800w is a spark of genius or a burn out.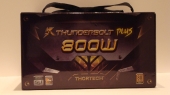 Enter THOR God of thunder

I will be testing against a variety of loads in order to determine stability and noise output of the Thortech Thunderbolt 800w power supply. I it is extremely important that your power supply generates a consistent amount of power for all your internal components, if the power does not remain constant than you can and probably will experience a host of issues from device failure to fire.
Packaging:
As you notice from the pictures the box is quite flashy while still containing a good amount of information. The bonus to the Thunderbolt plus is that the box could theoretically double as a tote for cables to your next LAN party.
The features list is impressive if relatively standard on quite a few power supplies. The most impressive of specs is its 80+ Gold cert and its iPower Meter.
Efficiency performance > 87% with 80Plus Gold certification
Single +12V rail design providing up to 65A (800W)
iPower Meter: Industry's 1st interactive PSU control panel, chassis panel mounting 5.25"
Modulized Cable Management
Complies with all the latest Intel and AMD CPU
Designed to sustain at 50°C ambient with full wattage output
Interleeve Active PFC circuit helps to provide perfect PF value > 0.99
Supports ATX 12V V2.3 and EPS 12V V2.91 standards
135mm Ball Bearing Fan with smart fan control circuit to provide better system airflow
Smart Fan Control Technology Ready
Support NVIDIA SLI & ATI Crossfire multiple graphic cards platform
Low ESR 105°C solid state capacitors
Multi-Protection as OCP/ OVP/ OPP/ UVP/ SCP/ OTP