Tiger Direct First Annual Holiday Bash
Last night 4000 plus guests descended upon a venue in downtown Miami Florida to attend Tiger Direct's First Annual Holiday Bash. DJ Supersede mixed the tunes as Tiger Direct threw a party not to be forgotten by guests and celebrities alike. TechwareLabs was there to bring you the wild videos and pictures of the hot tech and babes. Celebrity guest Anna Kendrick kicked off the night with introductions and photo's to get things started. The event was packed with over 4100 registered attendees and a red carpet for the celebrities upon arrival. Music was cortesy of DJ Supersede and food was provided by Tiger Direct as well as guests flooded in and filtered into the four floor party hall. Never let it be said that Tiger Direct doesn't know how to party.
It was clear that the big name retailer with a major online presence had done their homework when planning and the execution was great. Guests we spoke to loved the layout and the cool toys to play with. Everyone was a fan of Tiger Direct  and everyone left with a  gift bag courtesy of the company. Staffing for the event helped guests and demo'd products while bartenders assured everyone was in a good mood. All of this helped along by DJ Supersede who has to be heard to appreciate.
On display Tiger had an array of the latest tech gadgets including Ultrabooks, the new  HTC Windows Phone 8 and much much more. Tiger kept everyones night exciting by hosting a PC Build Race, Dance Off, and the Destructoid Gaming Lounge. Spread across all four floors of the LED lit party hall was liquid entertainment for the guests and edibiles. Tiger even threw in palm reading, art by Alex Mijares and Miguel Parades, and Ping Pong tables just to be over the top.
We weren't the only press at the event as Peoples Magazine and Channel 6 news were also there taking photos and video of the event. Free Valet parking was provided for those that registered early though the event was so popular that the line stretched around the building and down the street.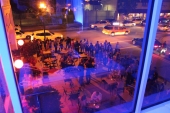 Doors opened at 8PM and the venue was truely remarkable. As we mentioned all four floors were utilized and needed for the over 4000 guests. The internal architecture was highlighted by color changing LED's and free form crossbeams running from floor to floor along the interior. Tiger Direct definitely knows how to throw a classy event and if you have the opportunity its not one to miss. We drove four hours to be there when the lights were turned on and the music started and it was worth every moment. From celebrity guests to amazing beverages and wild people Tiger's First Annual Holiday Bash was certainly a bash to remember. Check out our photos and video's from the event.  After the break we have our video coverage as well.
Tiger Direct First Annual Holiday Bash PC Race
Tiger Direct is well known for their annual Build Your Own PC Race held in Las Vegas during CES timeframe. A big prize awaited the first and second fastest builders. This year Tiger Direct held a race at this event in Miami and the first and second place winners are sponsored to go to Las Vegas and try their luck at the race held there. TechwareLabs was on site to bring you the Tiger Direct PC Race winners of the event.
Cool Tech on Display
Several manufacturers had their latest mobile offerings on display, including Dell, Lenovo, Sony, Alienware, Acer, and Asus.
Lenovo had a new take on an older design on display; this ultrabook features a swivel hinge that lets it fold back into a tablet configuration, or open up to full laptop mode. In addition they had some sweet ultrabooks they were showing off with that nice soft touch rubber finish.
Alienware had several of their latest gaming laptops on display, showing off their computing muscle with the new Call of Duty: Black Ops II. We still love the AlienFX color changing keyboards that you can customize. For the ultimate in gaming laptop power nothing can touch the Alienware M18X. All of the M series Alienware laptops come with Klipsch speakers and Geforce Graphics and the new laptops even come with Blu-Ray optical drives and SSD's.
Sony had several unusual offerings on display, including a large touch panel configured like a drawing table for easy touch access, and their take on the convertible tablet idea, which props the screen up in kickstand fashion when in laptop mode.
Asus had several of their latest designs on display, including both ultrabooks and high performance laptops from their Republic of Gamers line. We have a review of their UX31A Ultrabook which can be found here.
We would like to extend a big thanks to Tiger Direct for the invite and for planning and holding an awesome party.
Gallery