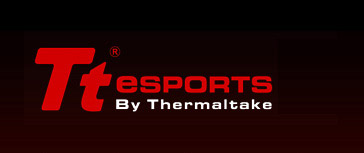 Introduction
E-sports is one of those trends that has come and gone over the past decade, as interest waxes and wanes. With the prominence of StarCraft II, League of Legends and other e-sports-minded games on the rise, many companies are looking to get in on the action with e-sports branded and themed peripherals. Thermaltake is so jazzed about the idea, they spun off a separate imprint for the purpose, Tt eSPORTS. Under that label, they're putting out a fairly broad range of keyboards, mice, headsets, mousepads, and other gaming accessories. Today we'll be taking a look at the entry level keyboard in this new lineup, the Tt eSPORTS Challenger.
Features
First, let's take a brief look at the features Tt is touting for this keyboard, as well as my commentary on them. All feature text is taken verbatim from manufacturer-provided materials.
Feature
Commentary
32 KB On Board Memory – Storage up to 18 macro keys for FPS, MMORPG RTS and more games.
A fairly standard amount these days for macro-capable peripherals
User interface –

Provides 3 game profiles; each profile offers up to 6 macro keys or Single keys from T1 to T6
RESET: Delete all the Macro key or Single key within particular game profile
Each "T" key can be programmed for Macro key or Single key function
REGISTER: Register your keyboard for warranty
Help: Direct gamers for user's manual and Graphical User's Interface setup
ON/OFF light option on Tt logo
Timer indicates total gaming duration for gamers
Save Profiles from GUI to PC
Loading Profiles from PC to GUI
Save Profiles from GUI to keyboard memory

Apparently the manual is bleeding over into the feature text. We'll comment on the user interface itself when we get to A Closer Look below.
Macro keys -Macro key setup Gamers can program their personalized key contents via keyboard

Indicates which key gamer is now programming
Delay time will be automatically determined when commands are input or gamer can adjust the delay time according to the game demand
Adjust up or down for Macro key content
[RECORD] Press RECORD button to begin Macro key set up
[STOP] Press STOP button to stop set up
[DEL] Press DEL to delete the Macro key contents
[REPEAT] Press REPEAT to select your repeat modes for Macro keys
[LOAD] Press LOAD to load your preset macro key
[SAVE] Press SAVE to save particular key set up
[OK/EXIT] Press OK/EXIT to complete Macro key set up

More bleed-over from the manual.
Multimedia Keys – Instant access to multimedia function for quick audio control
A fairly standard array of media control keys, accessed through a Fn+key chord. On-keyboard volume control is nice; whether the play/pause/stop/skip buttons will be picked up by your music player while in-game is up to the software.
USB 2.0 Port – Provide easy usage of other USB peripherals
"Peripherals" is a bit of a misnomer; there's only one port on this keyboard.
On Board Profile Switch – On board profile switch to engage for instant game changes
Also accessed through a Fn+key chord, this lets you switch profiles without having to alt-tab to the desktop and hunt down the configuration software. A standard key profile with no macros is also immediately available; handy if you find your profiles stomping on an important key binding.
Fan Device – Cooling Fan not only keeps your hand dry and provides comfortable gaming experience
A dubious claim at best; I don't think I've ever heard of someone suffering from sweaty-back-of-hand while gaming.
Windows Dummy Keycaps – Enclosed with two Windows keys to disable the function; prevent from jumping out of the game by accident
A nice enough gesture; unfortunately rendered pointless by the lack of a left-hand Windows key.
Smart Cable Management – Protects cable from damage of improper use
In lieu of proper strain relief molding on the cable itself, Tt eSPORTS has instead given us this short cable channel that moves the cable 2″ to the right.