Despite the release of USB 3.0 and USB C standards, USB 2.0 Micro B is still the preferred connector of choice for most electronics. Between Bluetooth speakers, headsets, watches, drones, cameras, and potentially your phone you probably have somewhere between 10 and 20 cables lying around. If you've ever had a cable break, stop working, or shock you when the wires became exposed; it's time to consider a higher class of cable.
The Ventev 4ft alloy Micro cable showcases an ultra-sleek brushed aluminum housing and is braided with a high tensile wrap providing a premium finish and 'no-fray' durability. Available in six colors.
Let's take a look:
This is definitely premium packaging. Some cables you buy come in little more than a plastic bag.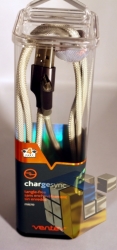 It is no surprise the cable is stiff the extra layers that provide the protection usually lead to this, it usually works itself out within a few days of use.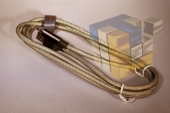 The brushed aluminum is only for housing the ends themselves, the "high tensile wrap" is plastic.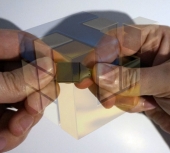 As you can see with some force applied to the end you could separate the silicone boot and the brushed aluminum housing.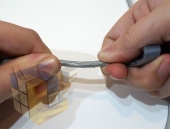 Twisting the cable also distorts the high tensile strength wrap to where it could get caught on items in your bag.
You may thing I'm being pretty critical on a USB cable. In the back of my mind this cable is being compared with the braided USB cables that I regularly buy from amazon. Here's a simple comparison chart
Ventev chargesync alloy:

Packaging is great
Cable ends are metal
Cable braid is plastic
Can separate pieces to identify break points
4ft length
$19.99

Random USB micro cable from amazon:

Packaging is a plastic bag
Cable ends are rubber
Cable braid is fabric
I could not negatively affect the cable integrity with the same force applied to the Ventev
6ft length
$2.83
Conclusion:
This cable is tangle free, looks nice, and works just like a micro USB cable should. With that said at $24.99 price tag I don't see a market for this online. In a certain popular electronics store next to $40 HDMI cables this is probably right at home.