Today we are taking a look at the Ventev Powercell 3015c. This is a 3000maAh battery with a built in micro USB cable. If you don't know what an external battery with a micro USB port is used for, or why you might want one then I would stop reading here.
Now that we have that out of the way, here are the manufacturer specifications:
Compatibility:
Number of USB Ports: None
Devices charged at once: 1
Multiple Port Circuitry: No
Charging Port Configuration: Single – Attached Cable
Max. Charge Rate: 1.5 A
Cable Included: Yes
Battery Type: Lithium-Ion
Battery Capacity: 3000 mAh
Warranty: Lifetime Limited
Weight: .38
Included Items: Micro USB charge only cable
Packaging and initial thoughts:
There isn't anything out of the ordinary here, standard retail packaging.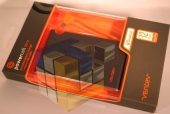 The unit comes pre-charged which is nice. It is presumable when you're buying this at a store you might need it right now.
The form factor is good this would easily fit inside any bag or purse. Even a pocket.
The attached Micro cable certainly makes the unit more convenient (as long you are charging a micro USB device). The unit doesn't have any additional USB ports so charging two devices or any other type of USB device is out of the question. (It's worth mentioning they have other units that accommodate that type of wish list.)
The feel of the unit is nice. The weight is good, and the case is metal. The USB cable is firmly attached and fits nicely into the side. It doesn't snap in though so I suspect it will fall out after time if you did keep it in the bottom of a purse or bag.