Introduction
Vizo, a computer peripheral manufacturer, has given us the opportunity to review one of their functionality enhancing products, the Vizo Master Panel II. Created from its predecessor Master Panel I, this front 5.25" drive bay panel is designed to make access to ports and controls easier.  Front panels have recent become a popular item within the computing community, with the ease of access that it has it's a definite must for users with several peripherals.
Vizo's Take:
" VIZO Master panel II fits for 5.25″ bay and bears USB2.0 card reader, dual-channel fan controller, eSATA port and multi-I/O function ports in one module which provides the convenient way to connect your devices and manually adjust your system fans" speed at the same time.With Master Panell II, you can do it in the front of your PC and don"t need to go to the back.
It is the most economical, high performance, space saving unit for your PC."
Packaging
The Master Panel II comes with all the necessary extention cables to make hookup to your motherboard possible and includes the driver disk for the media card reader functionality. There is also a manual which helps explain which cables to hook up and also to provide power to the device.
Package Contents:
Master Panel II Main Module
Power Adapter Cable
Fan Cables
USB Cable
MIC Cable
1394 Cable
Line in / out Cable
SATA Cable
RCA Cable
Accessory Package
98 Driver CD for Card Reader
User Manual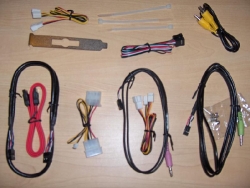 Features
For 5.25″ Bay
USB2.0 internal card reader 4 memory slots are active, which allows you to copy data between the different memory cards at the same time
Dual fan speed control knobs (4V -12 V)
Multi I/O transfer function (USB*2/ 1394 / eSATA/ RCA / audio*3)
Support hot plug and hot swappableMust be attached to hot swappable compliant host to enable hot swappable function
No need to go to the back, do it in the front
Support WIN 98SE / ME / 2000 / XP / Vista
Support MAC OS 9.X/ X or above
Specifications
Dimensions: 148(W) x 42(H) x 70(D) mm
Card reader Interface: USB2.0
Power Mode: USB power / DC 12V, 5V
Memory card slot:4 slots for: Compact Flash Type I/II, Micro Driver, Memory Stick(Duo*), Memory Stick Pro(Duo*), Smart Media, SD, mini SD*, Multi Media card, RS-MMC*, microSD*

*: need card adapter

Fan Control: 2*3pin fan RPM control knobs (4V-12V)
Weight: 90g
Installation
The Master Panel II requires a 5.25" drive bay, so before you go out to purchase one of these, make sure that you have or can make a free slot.  Also something to note is that the knobs on the front of the computer can cause problems to occur with a door on the front of a computer.
Although there are many cables, the installation for this type of device is fairly simple.  Included with the device is an instructions manual which shows you which plug goes where.  It's simply plug the connecter from the device to the appropriate plug within your computer.  Each socket on the back of the device have a unique shape which can only be used with the appropriate cable, thus there is no confusion if a square plug goes into a round socket.
NOTE: The eSATA functionality is only possible if the motherboard natively supports this, the Master Panel II is only an extension device and does not add this capability to your system.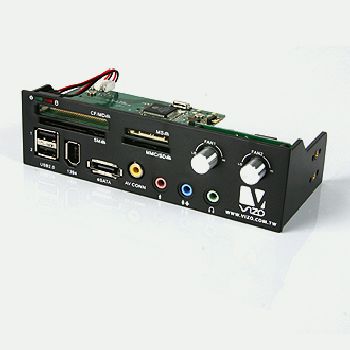 Conclusion
Overall this device was easy to install and to use.  The fact that I no longer need to reach around the back of my computer to plug my peripherals into my computer is wonderful.  Not having to go to the back of the computer also helps lower the clutter of wires there.  Also this device has a card reader which is compatible with up to 13 different types of cards not to mention the addition of two front USB ports and two separate fan controls. We feel that the Master Panel II delivers greatly enhanced functionality to your computer in the areas which matter the most to the average computer user.