Website Development: A History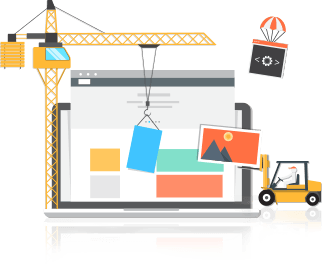 Once upon a time, web development was a quite simple thing: coding was done in the most basic of HTML and was commonly accomplished in one's simple text editor of choice. Notepad, Word, and Wordpad, among others, were all commonly used and the most complex choices to make were elements that consisted of links, pictures, and animated GIFs. Soon, the savvy got the idea that making this coding easier was something that could earn money for the non-html proficient. Thus was born the age of html editors like HotDog and Adobe Dreamweaver. Things got even more complex with some websites being created and run solely in Adobe Flash. These website looked amazing, had advanced capabilities, and were all the rage for a while. One big problem with Flash was that the content inside was not readable by conventional search engines, and thus not searchable by regular users. After a few awkward years where big Web portals were the primary way to find material, search engines ruled the web and still do today.
Though by no means the first major search engine, Google gave computer users around the globe easy access to finding the websites and content they were looking for in one location. It essentially spelled the death for paper-based phone books like the Yellow Pages, and has since grown to encompass much more. Google, Yahoo, and Bing are the big three search engines today, and while they gave consumers content, they also introduced businesses around the world to the concept of Search Engine Optimization. SEO gave rise to all manner of companies and money-making strategies, but became a double-edge sword for many.
SEO was a boon to many initially: websites that had existed for a while and had a good deal of traffic and content were known as organically optimized. This meant search engines placed links to these sites ahead of smaller or newer websites due to a number of factors including (somewhat inter-relatedly) age, traffic, links from elsewhere on the web, and content. This was good for those websites that had existed a while and built themselves up along with their traffic. Organic website optimization is much more complicated now, and Google has replaced it with the Pay-to-Play model. Companies now compete globally for keywords, paying to have their website rank higher in results for certain search terms. Organic optimization is not dead, but the rules governing your website development, the content, and accessibility are now much more important than ever before.
Website development has become something that specialized companies and professionals are now responsible for. Hiring the right company and using the right software is very important to the overall success or failure of a website and recognition online. Not all people and businesses seeking an online presence need to hire expensive companies and professionals though: the internet is filled with software that will do the task and allow you to manage your content at the same time. Software that also manages or allows you access to change, add, and create content is known as a CMS or content management system. Even beyond that, not all companies need a CMS if they don't plan to produce or modify content regularly, but those that intend to have fresh content on a regular basis would be best served to do their homework into which software they utilize. Making sure that you select the right software for your needs can prevent a lot of headaches down the road.
The software you deploy can manage every aspect of your website including:
Search Engine Optimization
Anti Spam
Subscriptions
Mailing Lists
Interactive content
Plugins
Mobile optimization
Social Media Integration
These are just some of the many aspects that the CMS of your choice may give you access to control; there are many more. Finding the right software to do the job can be difficult, due in no small part to the number of choices available. Thankfully, there are reputable websites that exist that compare and give a quick overview of some of the better selections available. For those that opt to select a website maker, the process is made relatively easy. You will want to review software choices online and see which gives you access to the controls you want, is rated well, and has a price within your budget. A good website will include helpful comparisons, articles on getting started, selecting the software, as well as rating different software packages. We recommend their use and, as always, doing your homework before making a decision. Good luck with your website development!