Introduction:
Any media Junky, audiophile, or true technology enthusiast will tell you. When it comes to networking, wired is better. They are making vast improvements in wireless technology however, with more improvements, come more devices. Pair that knowledge with the interference from neighbors competing WiFi frequencies, and the only solution is to Wire your whole house. Unfortunately, this isn't an option for people who are renting, don't have a network guru in their back pocket, or don't want to fork out the money to have it done professionally.
NEVER FEAR…Western digital Is here…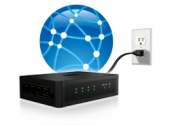 Today we have the Western Digital Livewire Powerline AV network kit. Lets see what Western Digital Has to say about it:
"Expand your home network instantly without running wires. Create high-speed Internet connections anywhere in your home without running wires between rooms. Just use your home's electrical wiring to create a network."
The technology for Powerline AV is not new, we have seen products from D-Link and Netgear Utilizing the same theory for years. What has Western Digital done to make this technology their own, and improve it?  Lets see if the Livewire can handle the juice.