Introduction

While SSDs are by now the unquestioned performance kings when it comes to storage, their capacities are still too low and cost-per-gigabyte still too high for them to displace hard drives completely. While SSDs continue to improve at a meteoric rate, hard drive manufacturers aren't sitting still. Today, we'll be taking a look at Western Digital's latest attempt at pushing back the superparamagnetic limit, the WD RE SATA 4TB drive. The RE stands for RAID Edition in this case and of course the WD4000FYYZ is an enterprise class drive. Whether it's meant for large-capacity storage on a workstation, or as a way to expand the capacity of a high-load NAS device, this drive is WD's current cream of the crop for SATA drives. Let's take a look and see how it measures up.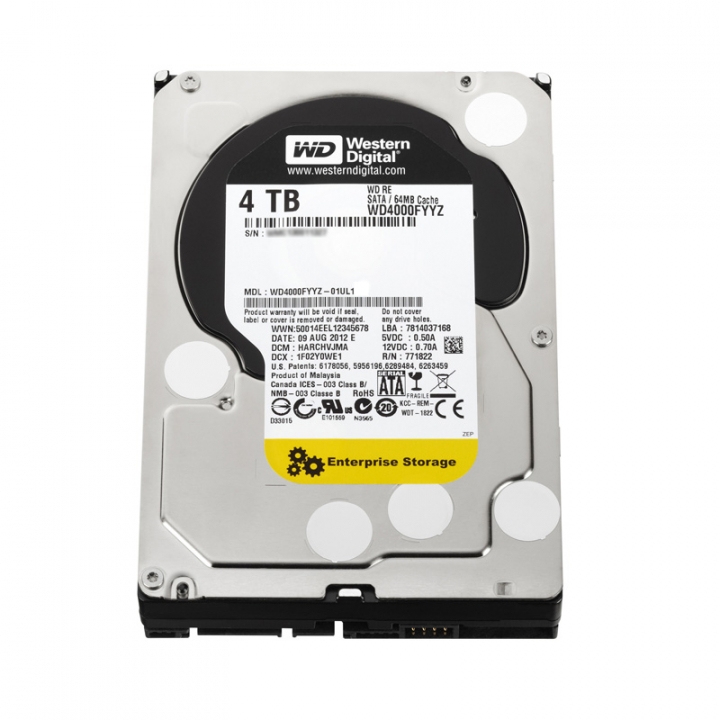 Benchmarks
Test System:
All tests were performed on the following system:
| | |
| --- | --- |
| CPU | Intel Core i5-2300 (Sandy Bridge) @ 2.8GHz |
| Motherboard | ASRock Z77 Extreme 6 |
| RAM | Crucial Ballistix Tactical 2x4GB |
| System Drive | Crucial C300 SSD – 256GB, SATA III |
| Data Drive | WD RE 4TB |
| Video Card | Sapphire Radeon HD 6970 |
| Operating System | Windows 7 Ultimate SP1 |
Datamarck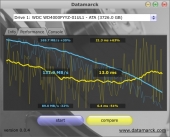 The Datamarck bench shows us some respectable numbers to start, an average of 131 MB/sec throughput with a 13ms access time.
SiSoftware Sandra
Sandra's physical discs test shows us a similar tale; 143 MB/sec average throughput, with the actual numbers dwindling as the heads near the inner regions of the platters.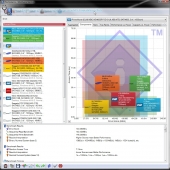 The file systems bench gives us a somewhat more real-world result; 130.26 MB/sec throughput with a 7.74ms average access time.
HD Tune
The normal results for HD Tune look much the same as in the other benchmarks; 141.7 MB/sec average read with 12.7 ms access time; 140.8 MB/sec average write with 3.69 ms access time. Burst rate was in the low 300s for both, but this can be attributed mainly to the onboard cache.
HD Tune let us do something interesting; it can simulate the effects of short stroking the disc. This technique, which involves deliberately only allocating a small partition at the front of the disc, lets you improve overall throughput at the cost of capacity. Short stroking to 800 GB gave us an average raw read of 168.4 MB/sec with 8.59ms access time, and an average raw write of 167.5 MB/sec with an access time of 2.74ms. Burst rates were largely unaffected. While it's no substitute for a SSD, short-stroking the drive can give you noticeably increased performance.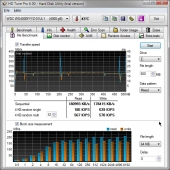 The file benchmark gives us a more detailed look at the filesystem performance of the drive, with a breakdown of how block size affects throughput. As expected, sequential read and write hovered around 181 MB/sec and 178 MB/sec respectively. 4k random read performance was unexpectedly low at 186 IOPS, though it improved to 567 IOPS at a queue depth of 32. 4k random write started high at 639 IOPS, and settled down to 570 IOPS at queue depth 32. As far as block sizes go, the drive reached a stable write performance plateau at 16k clusters, though the read numbers did tend to creep upward as block sizes grew until 512k.
Teracopy
Last but not least, we have our real world performance numbers. For this test we used Teracopy, an alternative file copy handler that works for any version of windows from XP onward. We used our test system's Crucial C300 SSD as the source drive for these tests, to remove any possible bottleneck on that end.
Our first test involved copying a number of small files, ranging from a couple of kilobytes up to a dozen megabytes in size. It took 2 minutes and 53 seconds to transfer the 15.5 GB clump of files, which gives us an average throughput of 8.96 MB/sec. The second test involved a single large file, 3.7 GB in size. It took only 30 seconds to transfer this file, which gives us an average transfer speed of 126.3 MB/sec. This bears out the filesystem results from our benchmarks, and shows us that this drive is going to be a solid performer.
Thoughts and Conclusion
As the benchmarks show, the WD WD4000FYYZ RE is a solid performer. Partitioning it on our test system was no challenge, though its unusually large capacity might cause problems if you intend to use it with an older NAS. Four terabytes is a huge amount of space; it's impressive that WD has managed to cram that much data into a drive that runs as cool and quiet as this one does. In a well ventilated case, I could not make the drive heat up past 45°C, and seek noises were barely audible with the case open and my ear six inches from the drive. I have no doubt that this drive will be quite comfortable packed into a NAS box alongside three or four of its fellows. Western Digital has made a solid performer with the RE 4TB; one I would have no trouble recommending to anyone looking for high density, low cost storage.