Western Digital Scorpio Black 750gb Laptop Hard Drive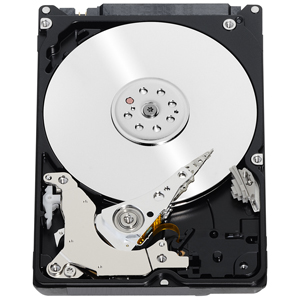 Data makes the world go 'round. This is a simple truth – everything we do that makes it worth owning a computer either generates data, acts upon data, or makes use of data. The more you want to be able to do, the more data it involves. Just because we need, or work with, or generate data doesn't mean we have the time to go home to make use of a big computer with a big stack of big drives however. Professional video-editors are one of the worst hit by this phenomenon; working in the field with uncompressed, high-definition video requires not only copious storage, but fast copious storage, if they expect to earn their paycheck. Even if you don't make a living shoving bits around, lots of people now have need of fast, vast storage, even if they are notebook users. Western Digital has risen to the challenge and offered a solution in the form of their Scorpio Black series of laptop hard drives. They offer huge capacities, with significantly improved read-write speeds over the conventional "big laptop drive" that operates at 5400 RPM at a fairly negligable premium.
Western Digital explains
Desktop-class performance
Really is absurdly fast, and I have the benchmarks to prove it.
These fast and efficient hard drives with 7200 RPM spin speed, 16 MB cache, and SATA 3 Gb/s interface are sure to satisfy even the most demanding notebook users.
Massive capacity
Not much bigger on the market.
Up to 750 GB capacity for space-hungry operating systems with plenty of room left over for photos, music, and video
Low power consumption
Mercifully low power draw – as a matter of fact, lower than the power draw on the stock hard drive I replaced. Power draw is 30% lower than the competition during seek, and 20% lower at idle.
With 5400 RPM-equivalent power consumption there is no compromise in battery life
Advanced Format (AF)
By switching from 512 byte sectors to 4096, less capacity is wasted on on metadata and error-correction data, while maintaining the same robust error-correction capability as before.
Technology being adopted by WD and other drive manufacturers as one of multiple ways to continue growing hard drive capacities. AF is a more efficient media format that enables increased areal densities. (BPKT models only)
Reliable and rugged
Anything that makes my data safer, I'll take it.
WD's ShockGuard technology protects the drive mechanics and platter surfaces from shocks. WD's SecurePark parks the recording heads off the disk surface during spin up, spin down, and when the drive is off. This ensures the recording head never touches the disk surface resulting in improved long term reliability due to less head wear, and improved non-operational shock tolerance.
Tested for compatibility
Very relevant; not everything supports Advanced Format natively, and its 512 byte emulation mode may or may not be bit-for-bit perfect.
We perform tests on hundreds of systems and a multitude of platforms in our FIT Lab and Mobile Compatibility Lab to give WD customers confidence that our drives will work in their systems.
Quiet
Theoretically, not the quietest drive on the market, but it's in the same ball park. Lots of head-repositioning is also inefficient, so this may also speed up seek times. 28 dB is not the quietest drive on the market, but it's pretty close.
In a notebook drive, silence is golden. WD's exclusive WhisperDrive combines state-of-the-art seeking algorithms to yield one of the quietest 2.5-inch hard drives on the market.
Ideal for:
Yeah, pretty much.  If you need lots of storage in a small package, this is what you're looking for.
Portable digital devices of all kinds including notebook computers, external storage, and digital media players
While I couldn't fit all of this into the table, this drive once again draws less current than the OEM drive it replaces. According to the press release's spec sheet, it requires more power during startups and shutdowns when the motherboard is not communicating power management to the disk, but these take a couple seconds and happen infrequently. I will be perfectly happy to shave off whatever fractions of a watt I can during normal operation even at the cost of a more power-hungry bootup, and I suspect that more than 99% of potential customers would be happy to make that same tradeoff. You can have a look at the spec sheet here and decide for yourself if normal power-draw levels are to your satisfaction – they certainly are to me.