The Western Digital TV Media Player
The Western Digital TV HD Media Player (WDTV) is the device everyone has been raving about. I first  heard of the WDTV  from a friend who got me pretty excited about its possibilities. When I got my hands on it, I'll admit I was a little skeptical based on first looks. My first thoughts were how could such a small device ( About the same size as a Western Digital My book) lacking most of the normal internal components that are normally found on media centers as well as having half the power footprint, bring real USB driven content to the masses?  My other concern was, how well could this device really compete against a true media center? Will I be disappointed? Find out as I review this latest offering from Western Digital.
What is it exactly?
Western digital describes it as a "High-definition multi-media adapter"
In lamens terms it is a device to play just about any type of media you may have (pictures, music, video), directly from a USB thumb drive or portable hard drive, the WDTV sports 2 USB ports to allow you to play media from both sources very easily supporting the NTFS, FAT32, (Windows) HFS+ (Mac) file systems (sorry no journaling support and no EXT support, sorry linux fans)  sadly it also does not boast either Firewire or Ethernet capability. The general idea around the device appears to be plug in a USB stick or portable HD, select the media with the included remote and easy to use menus and you're off.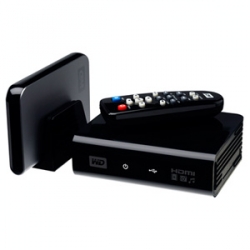 Specs:
File Formats supported:
Music – MP3, WMA, OGG, WAV/PCM/LPCM, AAC, FLAC, Dolby Digital, AIF/AIFF, MKA
Photo – JPEG, GIF, TIF/TIFF, BMP, PNG (sorry no RAW format used by high end cameras)
Video -MPEG1/2/4, WMV9, AVI (MPEG4, Xvid, AVC), H.264, MKV, MOV (MPEG4, H.264),
MTS, TP, TS   (these are your primary file types that you will find most downloaded as files as well as most archived video)
Playlist – PLS, M3U, WPL
Subtitle -SRT (UTF-8), SMI, SUB, ASS, SSA
Note:
– MPEG2/4, H.264, and WMV9 supports up to 1920x1080p 24fps, 1920x1080i 30fps, 1280x720p 60fps resolution
– An audio receiver is required for surround sound output. AAC/Dolby Digital decodes in 2 channel output only
– JPEG does not support CMYK or loss less.
– BMP supports uncompressed format only.
– TIF/TIFF supports single layer only.
File Formats Not Supported


Does not support protected premium content such as movies or music from the iTunes® Store, Cinema Now, Movielink®, Amazon Unbox™, and Vongo®
External Drive Formats Supported


FAT32, NTFS, HFS+ (no journaling and no Ext support sorry linux users)
Performance Specifications


Serial Transfer Rate
USB 2.0
Serial Bus Transfer Rate (USB 2.0)
480 Mb/s (Max)
| | |
| --- | --- |
| Physical Specifications | |
| Capacity | N/A (your limited by the size drive you posess) |
| Interface | HDMI, Composite A/V, USB 2.0 |
Physical Dimensions


English
Height
1.57 Inches (40 mm)
Length
3.94 Inches (100 mm)
Width
4.94 Inches (125.5 mm)
Weight
0.67 Pounds (303 g)
Environmental Specifications


Temperature (English)
Operating
41° F to 95° F (5° C to 35° C)
Non-operating
-40° F to 149° F (-40° C to 65° C)
Electrical Specifications
Current Requirements
Power Dissipation
AC Input Voltage
100-240 VAC
AC Input Frequency
50-60 Hz
Whats important to note here is that the WD TV has both a small foot print as well as having a plethora of video options to satisfy most file types which should offer most users a very pleasureable experience.
Stay tuned after the break for a closer look at this Intriguing product.