Packaging
Inside the box for the RevoDrive you will find….. another box. Inside of that is where the goodies lie.
The drive itself is fully encased in foam padding, making it very difficult to damage in transit. OCZ includes a nice sticker to help show off your new drive. As if you needed an excuse to brag about owning one of the fastest drives around.
A Closer Look
| | | | |
| --- | --- | --- | --- |
| | | | |
| | Front | Back | |
The RevoDrive is an amalgamation of many different parts of a standard storage system. It's the storage medium, storage controller, RAID controller and interface controller all rolled into one package. The drive is sized for a PCI-E x4 interface, but will work in an x16 slot provided your motherboard is capable of handling it. On the prototype of the RevoDrive, it had the actual connectors for an expansion daughter board. In the final retail version, we only see the pin outs for it. This allows OCZ to release a version that utilizes 4 drives instead of 2, which is what they did for the x2 version of the RevoDrive. By utilizing the PCI-E channel, drives are able to have much more throughput than if they were simply attached by SATA. This will be more relevant once drives start coming out that can start to saturate the new SATA 6G pipeline, and offers a simple upgrade path.
A SandForce For Your SandForce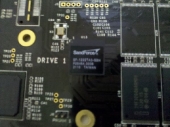 The RevoDrive utilizes two SandForce 1200 controllers in RAID 0 to achieve its blazing performance. The onboard RAID controller is a Silicon Image 3124 which converts SATA to PCI-X. The Pericom chip at the bottom of the board converts the signal from PCI-X to PCI-E so that it can be used in your motherboard. If you're wondering how the RevoDrive is different from just putting two SandForce 1200 based drives into RAID 0 using your on-board SATA, it really isn't. The real advantage is simplicity. You can also run into performance issues if the motherboard doesn't have a very good on-board RAID controller. With the RevoDrive, you know what kind of performance to expect from the controller. One downside is that you can't put multiple RevoDrives into a RAID array. You're stuck with the size you have.
Compatibility
Compatibility is a very large potential red flag with this product. Not every motherboard supports this card, even if they physically have a slot for it. OCZ has a tested motherboard guide that lists motherboards that are confirmed working with the drive. If your motherboard is not listed in the guide, you may be able to find someone that has had success with your board in OCZ's forums. Either way, some research is highly recommended before you spend your money on this drive.