What's in the Box
Thermaltake's Pacific RL240 comes with the following:
Pacific PT40 D5 with Silent Kit Reservoir/Pump combo
Pacific W1 CPU Water Block
Pacific 1/2″ inner diameter x 3/4″ outer diameter chrome compression fittings
Pacific RL240 radiator
Luna 12 Red LED fans
V-Tubler 4T 200CM tubing with interior diameter of 1/2″ (13mm)
Coolant C1000 red
NOTE: The included coolant is C1000 red and is shown in the images. But, for the sake of being different—not to mention visual appearance—we are using the newly released 1000 RED in Opaque coolant, which is much more appealing visually and is available from Thermaltake's website.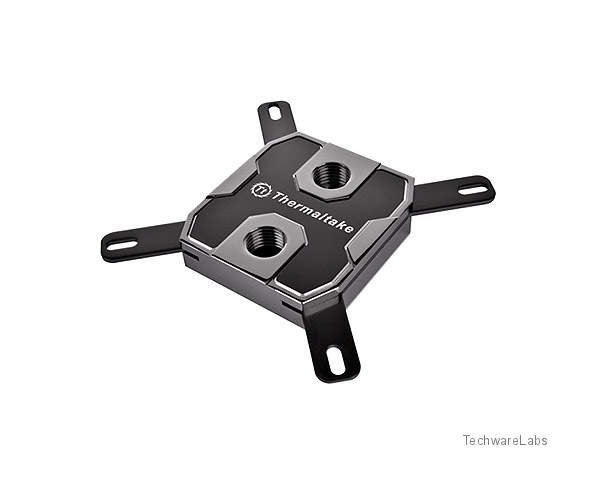 The W1 waterblock is arguably the least impressive component in the kit. It has a nickel-plated copper base and is polished to a mirror finish. This aids in heat transfer and assures the best possible mating surface for your CPU. It comes with brackets to fit all modern CPU sockets. The bracket installation is a multiple component setup and did require more than a few second looks to figure out the proper install. We will talk more about installation in depth later.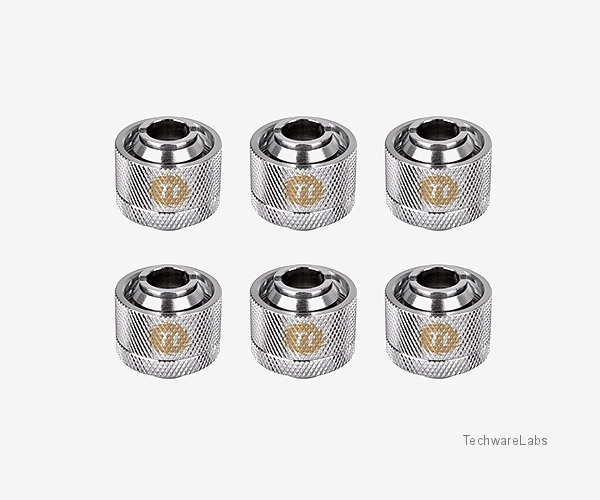 The compression fittings included are nickel-plated brass and worked quite well. We installed each of the fittings once and never had a single leak. We did assemble the system outside the case first, as trying to lock down the fittings by hand inside the case would be nearly impossible and probably lead to breaking something. The fittings are very visually appealing and lend to the overall look of the system and high quality feel. To put it mildly, these are not junk.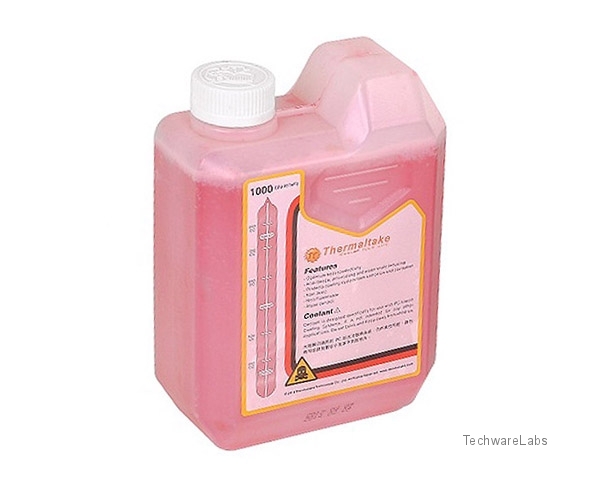 As we stated earlier we did not use the provided coolant, so we have no comment on its use. It is formulated for water cooling systems to prevent rust and scaling, so to answer you question, no this is not water with food coloring.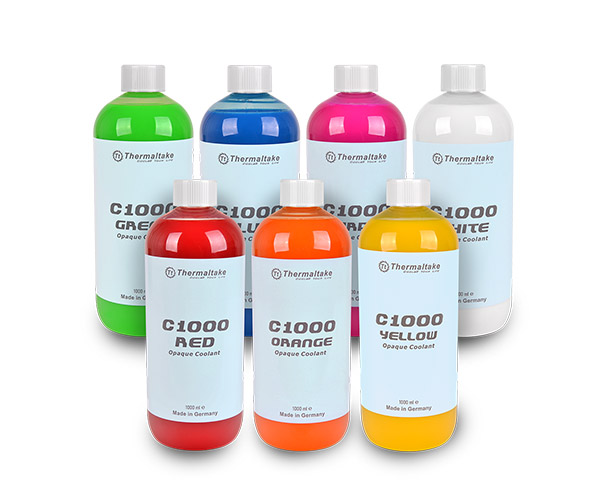 The C1000 red opaque coolant was used in our system and is by far more impressive to behold. You can expect to consume 1 full bottle when using the RL240 system.
The Luna 12 LED red fans are included with this system. Two fans are included which utilize anti-vibration mounts, LED's, hydraulic bearings, and enlarged frame openings for greater air flow. These fans are also available in red, white, and blue color choices.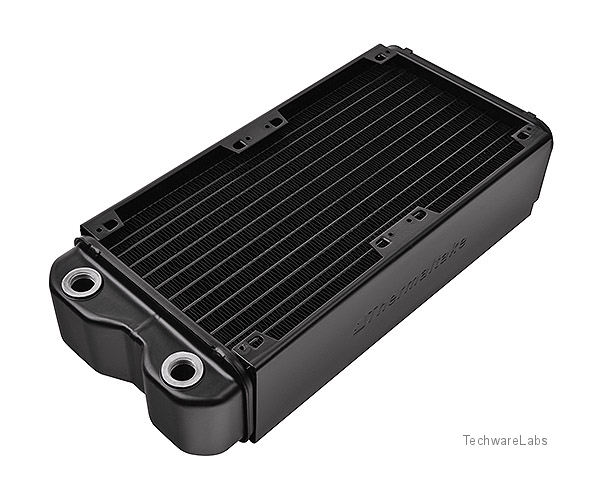 The Pacific RL240 Radiator is probably the most complex component in the lineup and allows for high capacity as well as multiple mounting options.
With high-density fin design (FPI: 14), the 240mm radiator is optimized to accommodate high airflow and high air pressure with increased capacity and provides superior cooling performance to all components.
Our kit utilizes the 240 (2 x 120) size though the radiator is available in 120, 240, 360, and 480 configuration options. Thermaltake created the RL240 using a high density fin design, German made anti-corrosive materials, and a high quality brazing process with no fillers in between gaps leading to better heat transfer.
We recommend watching the following video, which really explains the advantage that Thermaltake brings to the table here: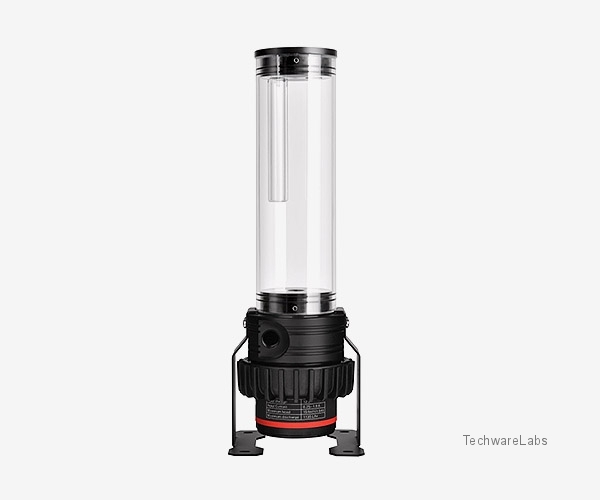 The Pacific PT40-D5 Reservoir/Pump Combo is DEFINITELY the most silent pump we at TechwareLabs have ever come across. This high flow pump has an adjustable rate from 1-5 and even at its highest setting was nearly undetectable. The reservoir is really the centerpiece of the system and draws your eye due to its attractive presence. When utilizing the new C1000 coolant, the reservoir makes for an impressive display. You will want to mount this in a very observable location.
Vertical mounting of the PT40-D5 is easy whereas horizontal mounting is much more difficult. The mounting of the PT40 in a horizontal fashion still requires use of the vertical mount feet to a vertical surface. Thermaltake does provide two half-moon mount brackets so that the reservoir remains level.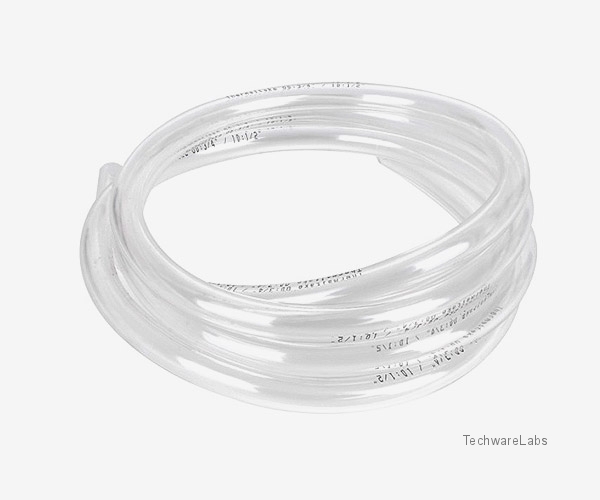 The Thermaltake Flexible Tubing V-Tubler 4T 1/2″ (13 mm) carries the coolant to the W1 Waterblock and circulates it around the system. This is advanced tubing that resists kinks and bends though with an extreme enough angle it will still kink. Thermaltake includes 2 meters of the tubing which we found to be just enough for our install with just a little left over.