In the box
The cable comes packaged in a regular cardboard box with nothing but inner packaging that kept the wire in place. Simple and cheap, which stands to reason since the company has such a strong stance on Green Product Initiative as per the quote on their website:
The Green Product's packaging is designed to be eco-friendly by using fewer materials. The packaging consists of materials such as cardboard containing post consumer (recycled) materials or a low impact plastic bag, all of which are recyclable. The plastic bag is marked with a "4" recycle symbol identifying the bags material as low-density polyethylene. This is an element of Accell's Green Products initiative and part of our drive to factor in environmental considerations through the product entire life cycle.
–Accell
Features
Reversible USB 3.1 Gen 1 Type-C connector
Throughput of up to 5.4Gbps/channel
Supports video resolution of up to 4K @ 60Hz
Provides multi-channel audio support
Compliant to VESA DP Alt mode on USB-C ver 1.0
System Requirements
USB-C port with DisplayPort Alternate (ALT) mode support*
What is DisplayPort Alternate (ALT) mode and how to tell if your computer supports it
Alternate mode to regular USB-C port support is the ability to transmit video and audio signal through the USB-C format. As of 2015 this is the new way to fully utilize the USB-C standard. Why should you use this? Well for one it allows 4K performance using the USB-C port while also supplying up to 100Watts of power. This is all better explained here on the official DisplayPort website and here on the official VESA website but can be summarized as such:


Any USB type C port that is marked with a lightning bolt supports the ALT mode for DisplayPort functionality. Any USB type C port that has the DisplayPort logo, also supports this functionality, as per the images below: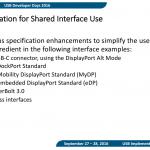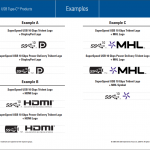 Images are taken from VESA, DisplayPort.org, and Wikipedia. For all further research follow the above links and we recommend that you do a little bit of research into what your personal computer can and can not support.